St. Mary's Families,
Good Friday Blessings to you. Today we acknowledge the most somber day ever. Today is a remembrance of the day when our sins nailed our Savior to a cross. But that perfect Sacrifice was and is the precursor to the perfect Hope that springs from the tomb on Easter.
Saint Magdalen of Canossa, pray for us.
- More about St. Magdalen:
www.franciscanmedia.org/saint-magdalen-of-canossa/ (Interestingly, St. Magdalen was a nun who was focused on and committed to the educational and spiritual needs of women. Did you know that St. Mary's was originally founded by the nuns of the Sisters of Loretto out of a commitment to the educational and spiritual needs of women?)
- Daily Mass readings for Good Friday of the Lord's Passion:
www.usccb.org/bible/readings/041020.cfm (Today, the author of Hebrews says this about Jesus: "For we do not have a high priest who is unable to sympathize with our weaknesses, but one who has similarly been tested in every way, yet without sin." In other words, if you are suffering right now, know that Jesus suffered before we did, and He suffers with us now.)
Easter Art.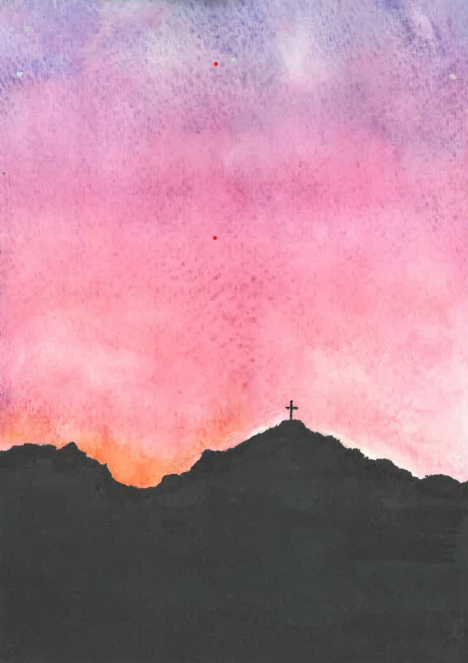 - Thank you to Ryan Bell for today's Easter art work.
- And thanks to all of our Easter artists over the last four weeks: Cynthia Trujillo-Castillo, Lydia Yi, Katherine Bishop, as well as Audrey Jumper (whose art was featured on the cover of the Easter card you should have received this week).
Updates.
- Just a thought: It was four weeks ago today that our students walked out of the brick and mortar school and into the distance learning opportunity. What a remarkable 28 days.
COVID-19 coronavirus.
- We're approaching a half million total cases in the US. Nationally, the total number of deaths is almost 15,000. It was reported that yesterday (April 9), COVID-19 ended the lives of more people than any other cause for the day. Yesterday was the highest number of new cases in Colorado to date. That should all get our attention. Stay safe, stay healthy. www.cdc.gov/coronavirus/2019-nCoV/index.html
covid19.colorado.gov/
What's Next?
- STAY STRONG. As Pope St. John Paul II famously said, "Do not abandon yourself to despair. We are an Easter people, and Hallelujah is our song." Thankfully, Easter is almost here...
How you can help.
- CELEBRATE during the approaching Easter Season. Just as a single candle can put to flight the most oppressive darkness, the slightest joy can put to flight the despair that so many in our world are choosing in these challenging times.
- GALA. Register for the virtual Gala (smpirates.org - "GALA" - "REGISTER"). Plan on celebrating with us by joining this live-streamed event 8 pm-9 pm on Saturday, April 18.
Parents, Students, how are you doing?
- STRESS. We've all been sprinting pretty hard over the last few weeks. Our teachers are reporting that overall our students are doing well; but there is still a lot of stress among our students, teachers and parents. Let's work on keeping things in perspective. A few days ago we reminded everyone that "Panic is easy, composure takes willpower." Keep breathing, keep your composure. We will emerge from this better, but only if we CHOOSE to be better.
Trivia Contest.
- WINNER... Or should I say, NO winner... Several responses were close, but we're a Catholic school, our standards are very high. For all of you competitive trivia players, below is your answer (remember, this is just the state championship banners that are currently displayed). Starting in the northwest corner by the weight room and moving clockwise around the gym:
Girls Basketball (picture above the weight room door)
Girls Soccer
Boys Soccer
Coed Cheer
Girls Basketball (picture near the northeast door)
Coed Cheer (picture - above the bleachers)
Boys Basketball
Boys Basketball
Boys Golf
Girls Volleyball
Coed Competitive Shooting (picture - above the southwest door)
Add them all up, and we arrive at a total of ***12***! Better luck next time, competitors.
Reminders.
- NO E-MAIL UPDATE TOMORROW. I know you are all going to be devastated by this, but I will not send an e-mail update tomorrow (Holy Saturday). Look for a brief Easter greeting and a Sunday video update on Easter, then we will return to our normal updates on Easter Monday.
Prayer. Please continue to pray with us and pray with our community:
THE MEMORARE
Remember, O most gracious Virgin Mary,
that never was it known that anyone who fled to thy protection,
implored thy help, or sought thy intercession, was left unaided.
Inspired by this confidence, I fly unto thee, O Virgin of virgins, my Mother.
To thee do I come, before thee I stand, sinful and sorrowful.
O Mother of the Word Incarnate, despise not my petitions,
but in thy mercy, hear and answer me.
Amen.
Respectfully,
Rob Rysavy
President
St. Mary's High School