St. Mary's Families,
Saint Anselm, pray for us.
- More about St. Anselm, Bishop and Doctor of the Church: www.franciscanmedia.org/saint-anselm/
- Daily Mass readings:
www.usccb.org/bible/readings/042120.cfm
- Readings for optional memorial for St. Anselm:
cms.usccb.org/bible/readings/0421-memorial-anselm.cfm
Congratulations.
- Fr. Randy Renter, member of our board of directors, celebrates the 30th anniversary of his ordination TODAY. Surely it is no coincidence that a long-time, successful educator like Fr. Randy celebrates his ordination anniversary on the same day the Church celebrates the great educator and theologian St. Anselm. Congratulations, Fr. Randy, thank you for your service to the Church and to our school!
Updates.
- DISTANCE FOR THE DURATION. Unsurprisingly, the governor is directing no in-person learning for the remainder of the academic year. That doesn't change our current distance learning rhythm, it just means, as we suspected, we will be in distance learning mode through the end of the school year.
- NO SPRING SPORTS. Well, we've already been robbed of a girls basketball state championship, and as of today we've been robbed of an entire spring sports season. I'm grateful to the spring coaches and athletes who have stayed in touch during these challenging times when we're supposed to be outside practicing and competing together.
- IMPACT ON OTHER ACTIVITIES. We're still digesting the governor's guidance for other spring activities and for summer activities as well. Once we completely understand his guidance and intentions, we will implement whichever of our plans aligns the most closely with the governor's directive(s). Stay tuned.
- MEET CODE for TOMORROW (Wednesday) Prayer, Pledge, Announcements:
http://meet.google.com/abi-inps-zoe
- COMCAST E-MAIL. Over the last few days a number of people reported to us that they stopped receiving the e-mail updates. All of those people had Comcast e-mail addresses. Not all Comcast e-mail users lost the e-mail, but of everyone who told us they hadn't received an e-mail update, they all had Comcast e-mail addresses. We've informed the technical people and they are trying to figure it out.
- RAFFLE WINNERS. Congratulations to winners and ticket sellers!
-- 1st prize - 10,000 - Pat Penny - sold by Caitlin Jock
-- 2nd prize - 4,000 - Julie Campbell - sold by Emerald Cordova
-- 3rd prize - 1,000 - Jay & Tanya Whalen - sold by Thatcher Whalen
- SILENT AUCTION WINNERS. Your items are now ready to be picked up at the school Monday through Friday between 8 am and 3 pm. If you have any questions, you may e-mail our amazing Events Director Raquel Krasovec at: rkrasovec@smhscs.org
COVID-19 coronavirus.
www.cdc.gov/coronavirus/2019-nCoV/index.html
covid19.colorado.gov/
How you can help.
- STAYING POSITIVE. There is plenty of temptation to be an Eeyore. Wikipedia says Eeyore is "pessimistic, gloomy, depressed, anhedonic" - you'll have to look up "anhedonic..." (https://en.wikipedia.org/wiki/Eeyore). We have TONS of Eeyores in the world. Don't be an Eeyore. If you feel that inner Eeyore starting to take over, you need to quickly go for a walk, or read a book, or call a friend, or say a prayer; do something to keep that Eeyore at bay. Eeyore is delightful in cartoons, not so much in real life. See the attached image for motivation...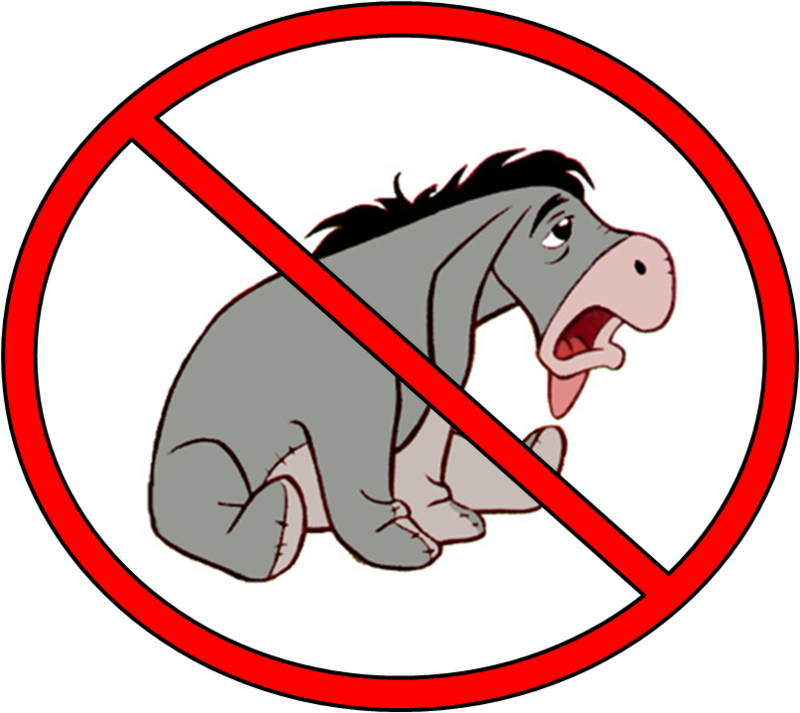 How you can help.
- PARENT SURVEY. Watch for a parent survey in the NEXT DAY OR TWO. It will be SHORT. Please help us collect some data and assess how we are doing. Rants are welcome, but constructive feedback is helpful.
Parents, Students, how are you doing?
- ARE YOU HAVING A BAD DAY? If so, the surefire cure is to be kind to another person who has no reason to expect a kindness from you. In Fr. Joe's homily about mercy during the Vigil Mass he celebrated last Saturday he quoted Plato, "Be kinder than you must, because everyone you meet is fighting a hard battle." Be kind, give it a try, you'll feel better. Even if you don't FEEL better, you will BE better.
Reminders.
- MONDAY, APRIL 27, is a SCHOOL DAY. When we were still in "in-person mode," April 27 was scheduled to be an off day. Instead, we will have the OPPORTUNITY to attend distance learning classes on Monday.
Prayer. Please, please, PLEASE continue to pray with us and pray with our community:
THE MEMORARE
Remember, O most gracious Virgin Mary,
that never was it known that anyone who fled to thy protection,
implored thy help, or sought thy intercession, was left unaided.
Inspired by this confidence, I fly unto thee, O Virgin of virgins, my Mother.
To thee do I come, before thee I stand, sinful and sorrowful.
O Mother of the Word Incarnate, despise not my petitions,
but in thy mercy, hear and answer me.
Amen.
Respectfully,
Rob Rysavy
President
St. Mary's High School