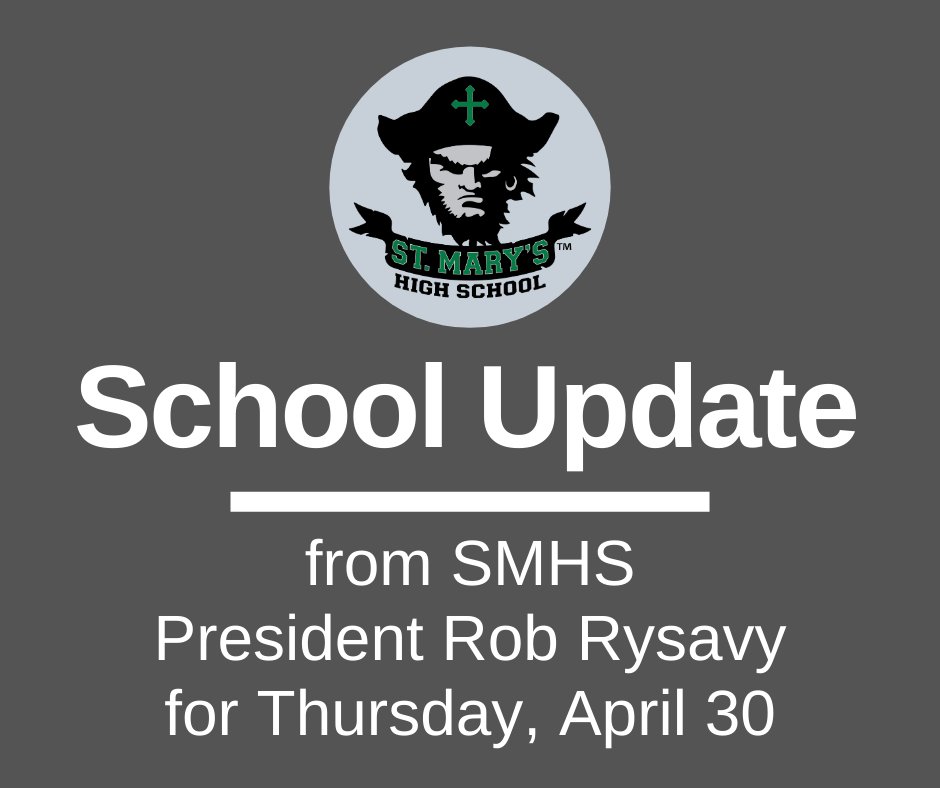 School UPDATE: Thursday, April 30
St. Mary's High School
Thursday, April 30, 2020
St. Mary's Families,
Saint Pius V, pray for us.
- More about St. Pius V: www.franciscanmedia.org/saint-pius-v/
- Daily Mass readings: cms.usccb.org/bible/readings/043020.cfm
- Mass readings for the Memorial of St. Pius V, Pope:
cms.usccb.org/bible/readings/0430-memorial-pius-v.cfm
Updates.
- MEET CODE for TOMORROW (Friday) Prayer, Pledge, Announcements:
http://meet.google.com/tmg-iktc-nyi
- SIGNING DAY. Watch the video from Alexa LaMack's virtual signing ceremony during this morning's Prayer, Pledge and Announcements. Congrats, Alexa!
www.smpirates.org/article/239939?org=smhs
COVID-19 coronavirus.
- Did you know? 95 percent of the students in the world are in distance learning mode right now.
www.cdc.gov/coronavirus/2019-nCoV/index.html
covid19.colorado.gov/
What's Next?
- Tomorrow is MAY! There is a light at the end of the tunnel.
How you can help.
- JOLLY ROGER: If you did not get your individual pictures taken for the Jolly Roger year-end addition--this includes any seniors that we did not find the day we took photos, especially Campus Ministry and 2nd period TAs! Please text a photo to Brooklyn Valdez or email her to make sure that we include you!
- YEARBOOK: Help out the yearbook staff. They are working on the Spring Insert. Send pictures ASAP. It's easy! Go to www.replayit.com . Sign in for "St. Mary's High School" and follow the instructions to upload pictures. Things we'd like to see:
-- At home with family
-- Practicing for your sports (the more creative the better!)
-- Working on school
-- Anything fun!
Parents, Students, how are you doing?
- GOT COFFEE? Seniors, hope to see you here at the school tomorrow at 3:30 pm for your free Dutch Bros (IF you signed up...). Please enter through the east parking lot and proceed past the gym and clockwise around the building. Grab your Dutch at the front doors of the school.
Uplifting.
- CONSECRATION TO MARY. Tomorrow, Friday, May 1, (the Memorial of St. Joseph the Worker) at 1 pm MDT, the US and Canadian bishops will consecrate both countries to the Care of our Blessed Mother. Details here:
www.usccb.org/about/communications/consecration.cfm
To watch:
- EWTN.com is planning to broadcast the reconsecration at 1 pm MDT on Friday. However, there will be an holy hour of prayer beginning one hour earlier, therefore noon on Friday.
- This reconsecration can also be viewed on
-- Facebook: www.facebook.com/usccb
-- Twitter: twitter.com/USCCB
-- Instagram: www.instagram.com/usccb/
Prayer. Please continue to pray with us and pray with our community:
THE MEMORARE Remember, O most gracious Virgin Mary, that never was it known that anyone who fled to thy protection, implored thy help, or sought thy intercession, was left unaided. Inspired by this confidence, I fly unto thee, O Virgin of virgins, my Mother. To thee do I come, before thee I stand, sinful and sorrowful. O Mother of the Word Incarnate, despise not my petitions, but in thy mercy, hear and answer me. Amen.
Respectfully,
Rob Rysavy
President
St. Mary's High School