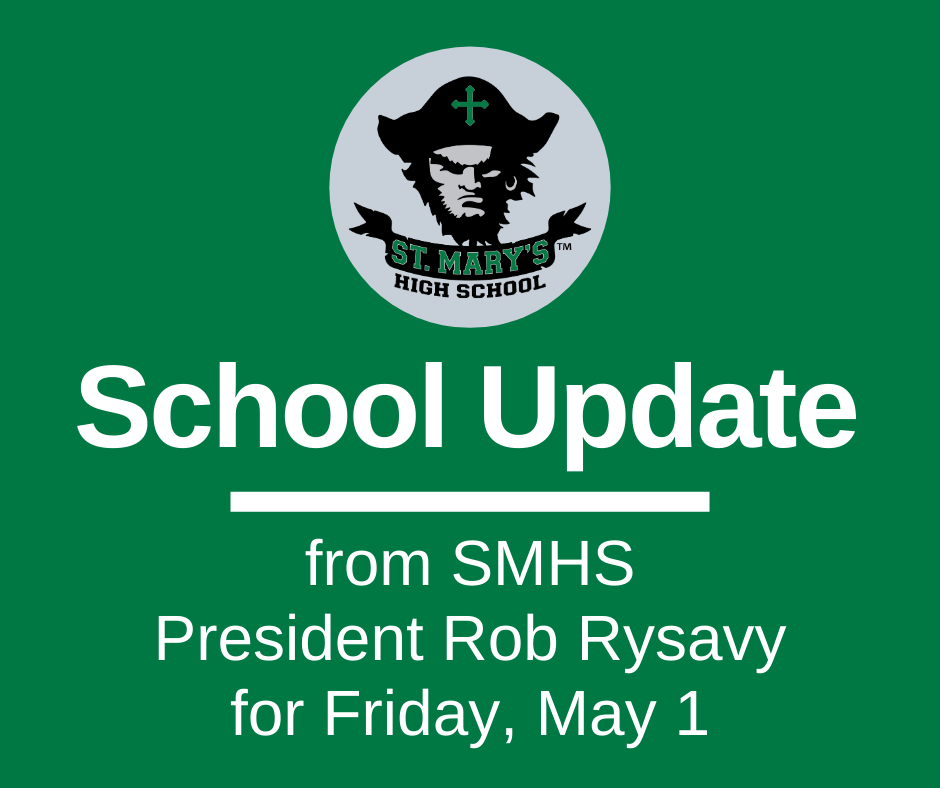 School UPDATE: Friday, May 1
St. Mary's High School
Friday, May 01, 2020
St. Mary's Families,
Saint Joseph the Worker, pray for us.
- More about St. Joseph: www.franciscanmedia.org/saint-joseph-the-worker/
- Daily Mass readings: cms.usccb.org/bible/readings/050120.cfm
- Mass readings for the Memorial of St. Joseph the Worker:
cms.usccb.org/bible/readings/0501-memorial-joseph-worker.cfm
For tomorrow (Saturday).
Saint Athanasius, pray for us
- More about St. Athanasius
www.franciscanmedia.org/saint-athanasius/
- Daily Mass readings:
cms.usccb.org/bible/readings/050220.cfm
- Mass readings for the Memorial of St. Athanasius, Bishop and Doctor of the Church:
cms.usccb.org/bible/readings/0502-memorial-athanasius.cfm
Updates.
- MEET CODE for *MONDAY* Prayer, Pledge, Announcements:
http://meet.google.com/ptx-hxru-epg - IN-PERSON SUMMER SCHOOL CANCELED. The guidance office is investigating online options for a couple of our most popular summer school offerings. Stay tuned, we will keep you posted.
- GRADUATION. Mr. Hyland and I were on a video conference today (Friday) with El Paso county health officials and most of the leaders for the high schools in the county. The governor has not approved anything associated with graduations yet, and the health officials reminded us the current state guidance remains no public gatherings of more than 10 people. The current sense is the governor MAY approve in-person graduations with STUDENTS ONLY. He is not expected to issue a final approval/disapproval until next week, but we will likely have more definite guidance before the end of this weekend. Please watch your e-mail for an update on Sunday.
COVID-19 coronavirus.
- Stay informed.
www.cdc.gov/coronavirus/2019-nCoV/index.html
covid19.colorado.gov/
What's Next?
- ALMOST DONE. "Almost done" is a synonym for "not done." PARENTS, with two weeks left, help your students finish strong. Here's some feedback from Mr. Dusty Campbell, the director of our Academic Support Program: "Hello Parents! I came across this article written by a college professor/psychologist that has helped families in disaster areas and immediately thought of some of your struggles at home. She has simple yet logical ideas on how to help you and your child get through this distance learning challenge. I hope you and your family are well!"
How you can help.
- JOLLY ROGER: If you did not get your individual pictures taken for the Jolly Roger year-end addition--this includes any seniors that we did not find the day we took photos, especially Campus Ministry and 2nd period TAs! Please text a photo to Brooklyn Valdez or email her to make sure that we include you!
- YEARBOOK: Help out the yearbook staff. They are working on the Spring Insert. Send pictures ASAP. It's easy! Go to www.replayit.com . Sign in for "St. Mary's High School" and follow the instructions to upload pictures. Things we'd like to see:
-- At home with family
-- Practicing for your sports (the more creative the better!)
-- Working on school
-- Anything fun!
Parents, Students, how are you doing?
- VIRTUAL CHOIR. Here's how The Sound of the Rockies, a non-profit men's choir in Denver, navigated the stay at home challenges to record a pretty cool musical piece and demonstrate that there are no problems, just solutions waiting to be found:
www.youtube.com/watch?v=5RIRLYpYkLA
- SENIORS! To those of you who could swing by for a cup of Dutch today, IT WAS GREAT SEEING YOU! Some of you gentlemen lost your razors last month :)
Prayer. Please continue to pray with us and pray with our community:
Before you pray the Memorare, here is a perspective on prayer from one of the most famous military figures in U.S. history:
General George Patton on Prayer
"Urge all of your men to pray, not alone in church but everywhere. Pray when driving. Pray when fighting. Pray alone. Pray with others. Pray by night and pray by day. Pray for the cessation of immoderate rains, for good weather for battle. Pray for the defeat of our wicked enemy whose banner is injustice and whose good is oppression. Pray for victory. Pray for our army and pray for peace. We must march together, all for God."
In other words, pray without ceasing! And a great way to pray is with the Memorare...
THE MEMORARE
Remember, O most gracious Virgin Mary,
that never was it known that anyone who fled to thy protection,
implored thy help, or sought thy intercession, was left unaided.
Inspired by this confidence, I fly unto thee, O Virgin of virgins, my Mother.
To thee do I come, before thee I stand, sinful and sorrowful.
O Mother of the Word Incarnate, despise not my petitions,
but in thy mercy, hear and answer me.
Amen.
Respectfully,
Rob Rysavy
President
St. Mary's High School