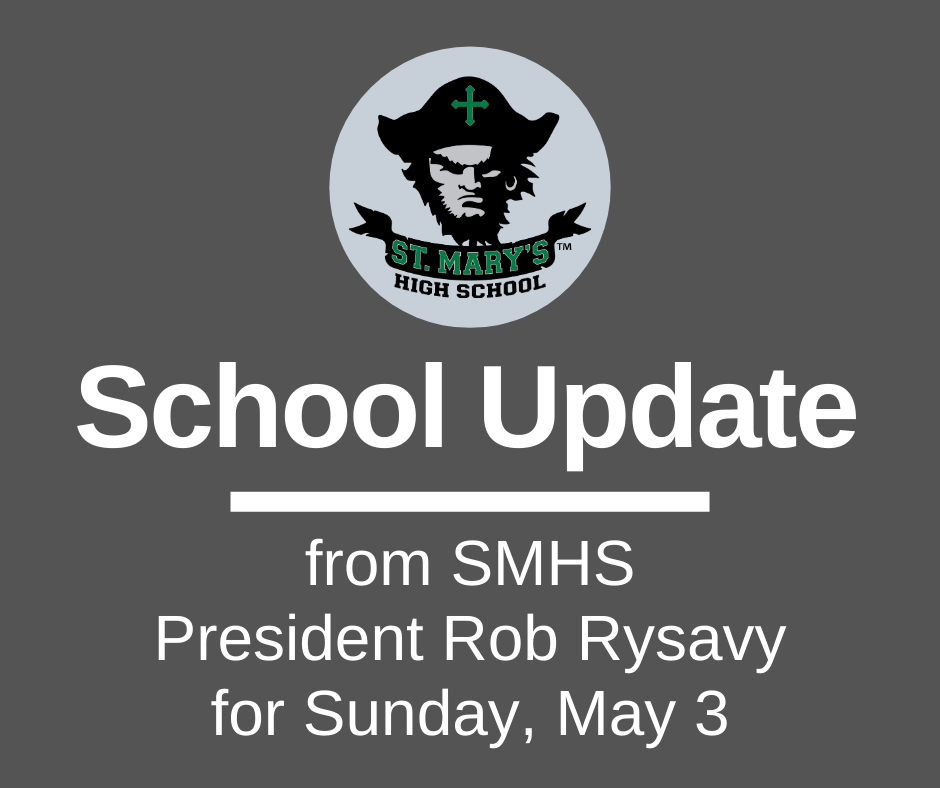 School UPDATE: Sunday, May 3
St. Mary's High School
Sunday, May 03, 2020
St. Mary's Families,
Saints Philip and James, pray for us.
- More about St. Philip and James, Apostles: www.franciscanmedia.org/saints-philip-and-james/
- Mass readings for the Fourth Sunday of Easter: cms.usccb.org/bible/readings/050320.cfm
Updates.
- PRESIDENT VIDEO. See link below for a short message:
www.smpirates.org/article/241198?org=smhs
- MEET CODE for TOMORROW (Monday) Prayer, Pledge, Announcements:
http://meet.google.com/ptx-hxru-epg
COVID-19 coronavirus.
- More than a million cases and 60,000-plus deaths in the US. More than 16,000 cases and 800-plus deaths in Colorado. Stay informed, stay healthy.
www.cdc.gov/coronavirus/2019-nCoV/index.html
covid19.colorado.gov/
What's Next?
- GRADUATION. Most applicable details were covered in today's video. Here is an outline:
-- The state restrictions imposed on all Colorado residents mandate no gatherings more than 10 people.
-- We believe that in the next few days the governor will approve a waiver for gatherings of more than 10 people, specifically for graduation ceremonies, with some very strict guidelines.
-- If you watched or read about the Air Force Academy graduation last month, you have an idea of what we expect will be in the approved waiver process.
-- Ceremonies must be outdoors.
-- The only permitted attendees are the senior class and the minimum number of staff needed to conduct the ceremony.
-- Seniors must be social distanced before, during and after the ceremony (no handshakes, hugs, high fives, pre-gatherings, post-gatherings, etc).
-- Seniors and the allowed staff must be in masks. The only exception is the mask may be removed briefly for a picture.
-- The waiver process being submitted to the governor has been approved by all our local hospitals, the county health department, and the county commissioners.
-- The process applies to all schools, regardless of size.
-- The rationale for graduating seniors being the only attendees regardless of the anticipated size of the crowd at graduation is directly tied to safety based on the existing COVID-19 data. About 24 percent of the US population are children, but children represent less than 2 percent of the COVID-19 cases. The data shows that not only does it seem that children have a lower risk of contracting the virus, they also have a much lower risk for extreme complications if they do contract it.
-- The fear among government officials is a ceremony conducted with high risk populations present (e.g., parents and grandparents) creates a potential for a large spike in new COVID-19 cases in the broader community.
-- The only thing that could possibly change the seniors only scenario is if the governor were to approve an increase in public gathering numbers beyond the current 10. For that to be meaningful for St. Mary's, the approved public gathering size would have to be increased from 10 to at least 200 (which would probably allow us to accommodate our seniors, their parents, and minimum number of staff). That approval would have to happen in the next six weeks. The view among the health officials is there is virtually no chance that could happen.
-- If we decide to delay graduation even further (July or August) because we assume the governor will allow an increase in size of public gatherings later this summer (there are schools planning to do that), and cases start to spike again, we could end up back in a stay-at-home environment, in which case all ceremonies (even seniors only ceremonies) would be canceled altogether.
-- Getting a waiver to approve a seniors-only graduation on June 13 is the best opportunity we have to get a waiver approved and actually be able to conduct a ceremony. Scheduling an earlier ceremony runs the risk of not giving us enough time to navigate the process (there are more than 600 high schools in Colorado), Aiming for a later ceremony means we start losing seniors who cannot attend a later ceremony.
-- Once the governor approves the request for waiver process, we will submit our waiver request. That request is already drafted, we are waiting to ensure the governor approves the process this week. When he does, we will immediately hit submit.
-- Okay, like everything else in the world over the last seven weeks, this is FAR from ideal, frankly, it's not even likable. but it is the best opportunity we have to take care of our seniors.
How you can help.
- STAY CLASSY. Before some of you even finished reading this e-mail or watching the video, you were dusting off your copy of Thoreau's "Civil Disobedience." If schools publicly defy the guidelines of the waiver process, law enforcement officials will likely be on hand for the ceremony. If schools quietly defy the guidelines (i.e., throngs of people just show up on the day of the ceremony), the damage to integrity of the school is likely severe. If there is a spike in COVID-19 cases on the other side of some act of civil disobedience, the damage to the integrity of the school is likely catastrophic. As I said in the video, and as most/all of you know, I am the parent of a senior. So I am blessed in that I will likely be at the ceremony as one of the handful of staff members overseeing the ceremony. Michelle and our other five children will be at home watching the livestream.
Finally.
- When is the last time I said THANK YOU to all of you, students, parents, faculty, staff? We have navigated stormy and uncharted waters for the past two months. There are probably more storms and more unmapped oceans in front of us. The support and encouragement we have received from our community has been the "wind in our sails" to continue the nautical theme. Please know how grateful I am for all of you. Again, thank you!
Prayer. Let's not forget to pray together as a community:
THE MEMORARE
Remember, O most gracious Virgin Mary,
that never was it known that anyone who fled to thy protection,
implored thy help, or sought thy intercession, was left unaided.
Inspired by this confidence, I fly unto thee, O Virgin of virgins, my Mother.
To thee do I come, before thee I stand, sinful and sorrowful.
O Mother of the Word Incarnate, despise not my petitions,
but in thy mercy, hear and answer me.
Amen.
Respectfully,
Rob Rysavy
President
St. Mary's High School