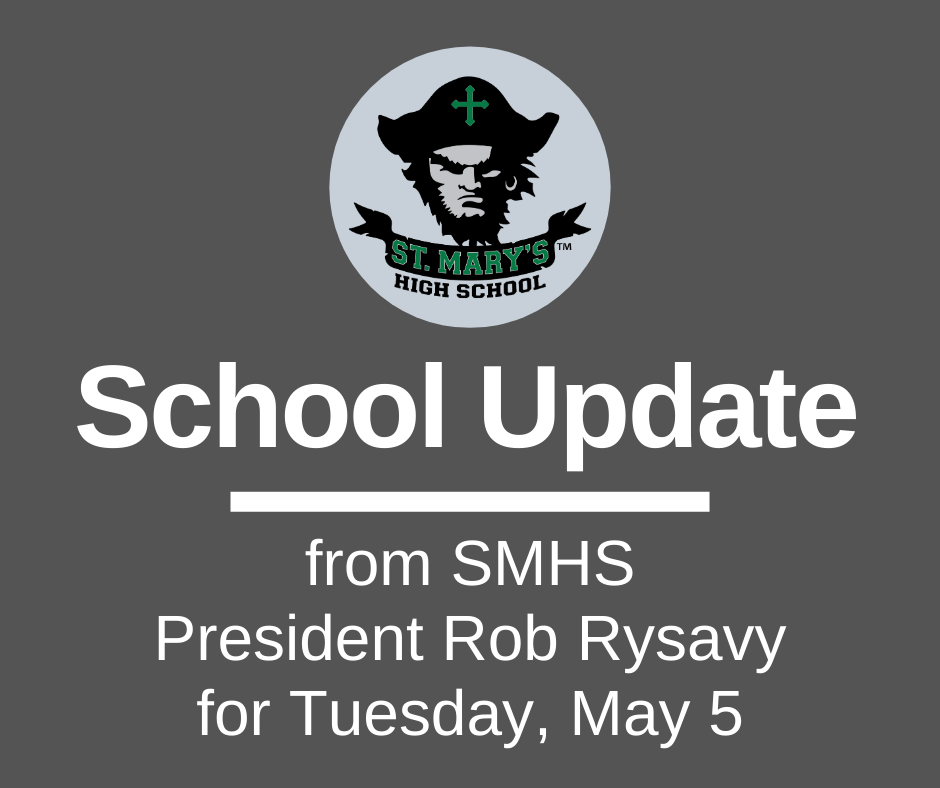 School UPDATE: Tuesday, May 5
St. Mary's High School
Tuesday, May 05, 2020
St. Mary's Families,
Saint Hilary of Arles, pray for us.
- More about St. Hilary: www.franciscanmedia.org/saint-hilary-of-arles/
- Daily Mass readings: www.usccb.org/bible/readings/050520.cfm
Important News: PLEASE READ.
- The St. Mary's Family is deeply saddened to learn of the passing of Jacob Calhoun. Jacob is a member of the class of 2013, the son of Jason and Lisa Calhoun. Jacob's brothers, Patrick and Gabe, are also St. Mary's graduates. Jason is a former St. Mary's board member. Given the challenges with social distancing and the restrictions on public gatherings, our community will not be able to grieve with the Calhouns in person at Jacob's Mass of Christian Burial on Saturday. We respectfully invite St. Mary's community members to send notes of remembrance and condolence to St. Mary's High School. We will gather those notes and plan on delivering them to the Calhoun Family on May 21.
Address:
Calhoun Family
c/o St. Mary's High School
2501 E. Yampa St.
Colorado Springs, CO 80909
We pray for the repose of the soul of Jacob:
Eternal rest grant unto him, O Lord. And let perpetual light shine upon him.
May his soul and all the souls of the faithful departed, through the mercy of God, rest in peace.
Amen.
Updates.
- MEET CODE for TOMORROW (Wednesday) Prayer, Pledge, Announcements:
http://meet.google.com/pxu-micu-rjr
COVID-19 coronavirus.
- As always, staying informed is a part of staying healthy.
www.cdc.gov/coronavirus/2019-nCoV/index.html
covid19.colorado.gov/
What's Next?
- GRADUATION. The process to request a waiver to hold a graduation ceremony is now on the way to the governor's office for state level approval. That process was approved locally by the county board of health, all local hospitals, and the county commissioners. Once the governor approves it, that means we have a process to request a waiver to conduct our graduation ceremony. Our request has already been submitted for local review. We will keep you informed.
Parents, Students, how are you doing?
- FAMILY TIME? Despite being "encouraged" to stay home, I hear from quite a few in the community that they're finding it challenging to gather as family and spend time together (that is certainly true for my own family). Please keep trying! We're living in a digitally connected world, and that is both a blessing and a curse. Technology is allowing us to continue education and to stay connected in a way that would have been inconceivable not long ago. That said, we still need human contact. Let's not give in to the temptation to lock ourselves away in the digital domain. Carve out some REAL family time (a meal, building a puzzle, playing a card game, etc.). If whatever you tried doesn't work, try something else. And keep trying. In the case of spending time together as a family, the victory is in the effort, not the outcome.
Reminders.
- SENIORS. Tomorrow (Wednesday) from 2 pm to 4 pm is cap and gown pickup here at the school. You have the details from Mr. Champion. Yearbooks and a delicious food treat will also be available for you. And hey, we LOVE YOU, but once you've picked up your stuff, you can't stay. Very sorry, but the governor makes the rules and he has a tough job right now.
Prayer. Please continue to pray with us and pray with our community:
THE MEMORARE
Remember, O most gracious Virgin Mary,
that never was it known that anyone who fled to thy protection,
implored thy help, or sought thy intercession, was left unaided.
Inspired by this confidence, I fly unto thee, O Virgin of virgins, my Mother.
To thee do I come, before thee I stand, sinful and sorrowful.
O Mother of the Word Incarnate, despise not my petitions,
but in thy mercy, hear and answer me.
Amen.
Respectfully,
Rob Rysavy
President
St. Mary's High School