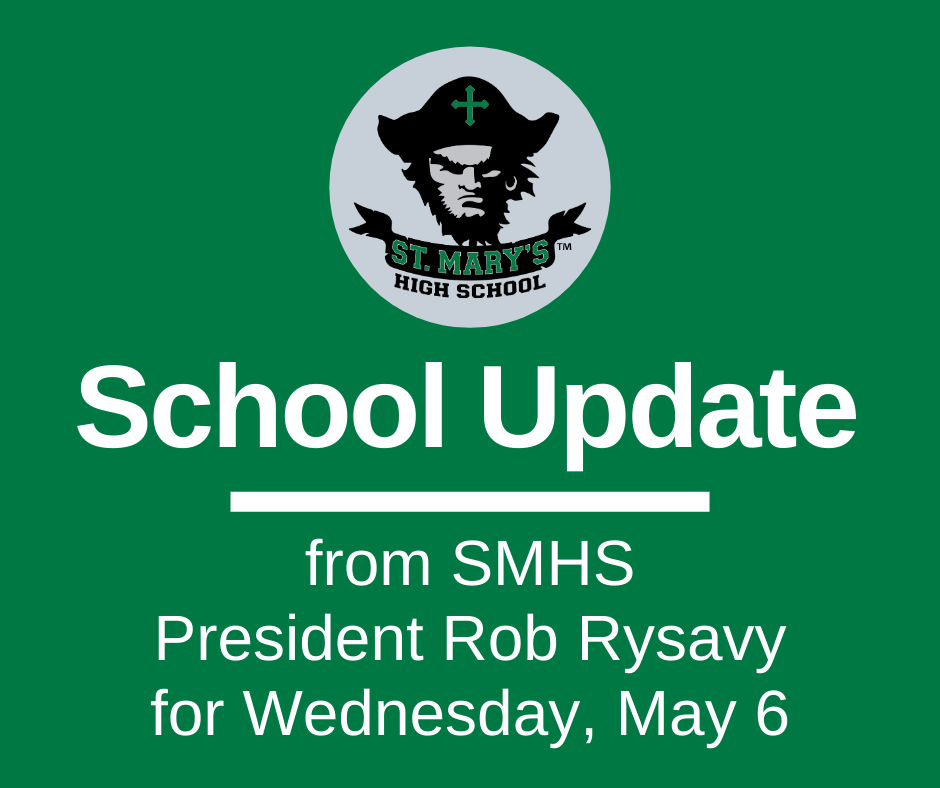 School UPDATE: Wednesday, May 6
St. Mary's High School
Wednesday, May 06, 2020
St. Mary's Families,
Saint Dominic Savio, pray for us.
- More about St. Dominic: www.catholic.org/saints/saint.php?saint_id=43
- Daily Mass readings: www.usccb.org/bible/readings/050620.cfm
Updates.
- MEET CODE for TOMORROW (Thursday) Prayer, Pledge, Announcements: http://meet.google.com/twm-xzrc-rbu
- BOOKS & LOCKERS. Check the e-mail from Coach Malloy. Call Ms. Garrett in the front office to schedule a time from May 18-21 to return books and clean out your locker.
COVID-19 coronavirus.
- According to the CDC, there have now been more than 70,000 COVID-19 deaths in the US. Stay healthy.
www.cdc.gov/coronavirus/2019-nCoV/index.html
covid19.colorado.gov/
How you can help.
- JACOB CALHOUN. The Mass of Christian Burial for Jacob, SMHS '13, will be Saturday at Divine Redeemer. Due to public gathering restrictions, that service will not be open to the public. HOWEVER, the family is inviting those in the community who would like to pay their respects to gather in the Divine Redeemer parking lot at 10 am. Social distancing must be observed. The service will be live streamed (link below). There will be a public service when it becomes acceptable to do so. Please keep the Calhoun family in your prayers, and please pray for the repose of the soul of Jacob.
www.tsfs.co/obituaries/Jacob-Charles-Calhoun?obId=12878427#/celebrationWall
Parents, Students, how are you doing?
- HIKING & FRESH AIR. Get some sunshine and some fresh air. The hiking club will be heading up the Palmer Lake Reservoir Trail Saturday. The weather forecast is, in a word, beautiful. Social distancing is required. Bring a MASK. The hike will last approximately three hours, so also bring some snacks, plenty of water, sunscreen, and loose-fitting layered clothing. Meet up at the Palmer Lake Library parking lot at 8 am. For directions or questions, contact Mr. Kloenne. While you are hiking, it would a great opportunity to pray for the repose of the soul of Jacob Calhoun whose Mass of Christian burial is scheduled for 10 am.
Congratulations.
- A big CONGRATS to Morgan Trechter. Morgan will be signing to play softball at Catholic University in Washington, DC. She was also awarded the highest academic scholarship and will be studying civil engineering. Way to go, Morgan. Another high-achieving Pirate!
Prayer. Please continue to pray with us and pray with our community:
THE MEMORARE
Remember, O most gracious Virgin Mary,
that never was it known that anyone who fled to thy protection,
implored thy help, or sought thy intercession, was left unaided.
Inspired by this confidence, I fly unto thee, O Virgin of virgins, my Mother.
To thee do I come, before thee I stand, sinful and sorrowful.
O Mother of the Word Incarnate, despise not my petitions,
but in thy mercy, hear and answer me.
Amen.
Respectfully,
Rob Rysavy
President
St. Mary's High School