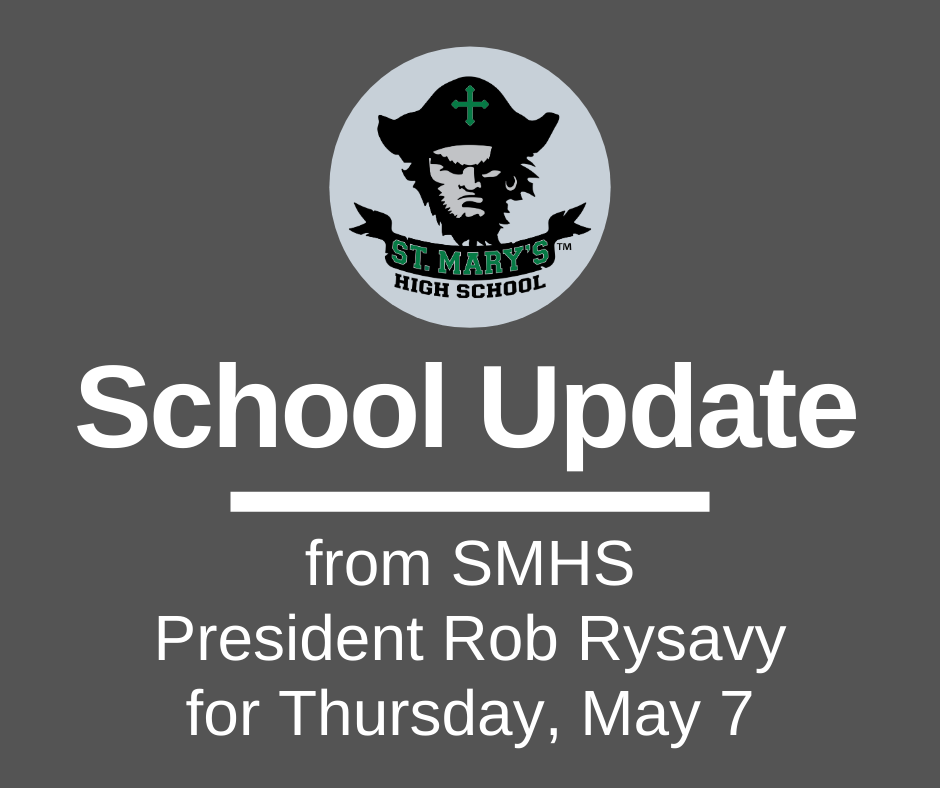 School UPDATE: Thursday, May 7
St. Mary's High School
Thursday, May 07, 2020
St. Mary's Families,
Saint Rose Venerini, pray for us.
- More about St. Rose: www.franciscanmedia.org/saint-rose-venerini/
Saint Rose has quite a story. Her fiance died before they could marry, she entered a convent, but then returned home to care for her widowed mother, and ultimately became a teacher and overseer of schools. She died in 1728, and was canonized in 2006.
- Daily Mass readings: www.usccb.org/bible/readings/050720.cfm
Updates.
- MEET CODE for TOMORROW (Wednesday) Prayer, Pledge, Announcements:
http://meet.google.com/ejg-qigo-mcm
- STEM CAMP CANCELED. This week we made the decision to cancel Mr. Kloenne's STEM camp scheduled for July 13-17. He had an awesome camp lined up, but given all of the social distancing protocols and limitations on public gatherings, there is no effective way to press ahead with that camp. We'll be back bigger and better than ever in the summer of 2021!
COVID-19 coronavirus.
- We are approaching 1,000 COVID-19 deaths in Colorado and we have more than 1,000 confirmed COVID-19 cases in El Paso county. Stay healthy.
www.cdc.gov/coronavirus/2019-nCoV/index.html
covid19.colorado.gov/
What's Next?
- TEMPUS FUGIT. "Time flies." This most interesting of school years is almost over, just a few days of class left. Finish strong!
- BOOKS & LOCKERS. Check the e-mail on May 5 from Coach Malloy. Call Ms. Garrett in the front office to schedule a time from May 18-21 to return books and clean out your locker. Coach and Ms. Garrett have a safe and effective plan for you to take care of those important end of year tasks.
- GRADUATION. Our graduation plan has been submitted for county and state approval. We will keep you posted. As a refresher: If approved, graduation will take place at the Grace Center, Saturday, June 13, at 10 am. Only seniors and some staff will be approved by the county and state to attend. The event will be LIVESTREAMED so families can observe. We will get the livestream link out as the date gets closer.
How you can help.
- SENIOR PARENTS. As we strive to ensure we can deliver a graduation experience for our seniors, it is obvious that the experience will be missing some important traditional elements (like parents!). So please start thinking (or continue thinking) about what you're going to do for your senior to acknowledge this major milestone in life. And if you already have some clever and creative ideas, please share them with us, we want to hear about the good things you're planning.
Parents, Students, how are you doing?
- GOOD JOB SENIORS. Nice work on the senior rock. It's certainly bold and no one is going to overlook it when they stroll through Rusty's courtyard.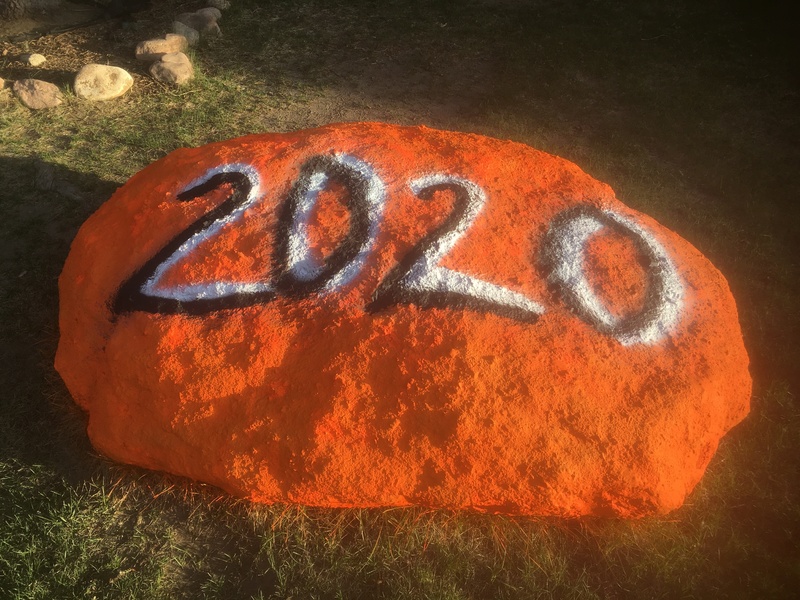 Reminders.
- JACOB CALHOUN. The Mass of Christian Burial for Jacob, SMHS '13, will be Saturday at Divine Redeemer. Due to public gathering restrictions, that service will not be open to the public. HOWEVER, the family is inviting those in the community who would like to pay their respects to gather in the Divine Redeemer parking lot PRIOR TO THE FUNERAL at 10 am. Social distancing must be observed. The service will be livestreamed (link below). There will be a public service when it becomes acceptable to do so. Please keep the Calhoun family in your prayers, and please pray for the repose of the soul of Jacob.
www.tsfs.co/obituaries/Jacob-Charles-Calhoun?obId=12878427#/celebrationWall
- HIKING & FRESH AIR. Get some sunshine and some fresh air. The hiking club will be heading up the Palmer Lake Reservoir Trail Saturday. Social distancing is required. Bring a MASK. The hike will last approximately three hours, bring snacks, plenty of water, sunscreen, and loose-fitting layered clothing. Meet at the Palmer Lake Library parking lot at 8 am. For directions or questions, contact Mr. Kloenne. While you are hiking, it would be a great opportunity to pray for the repose of the soul of Jacob Calhoun whose Mass of Christian burial is scheduled for 10 am.
- SUMMER SCHOOL. In-person summer school is canceled. The Guidance Department is working on some online offerings for our more popular summer classes.
On A Lighter Note.
- It's been a difficult week. The title of this article is: "30 Pics Of A Family That Uses Chalk Art To Go On Adventures During The Lockdown." I dare you not to smile. No. 8 is my favorite.
www.boredpanda.com/family-chalk-art-adventures/?utm_source=google&utm_medium=organic&utm_campaign=organic
Prayer. Please continue to pray with us and pray with our community:
THE MEMORARE
Remember, O most gracious Virgin Mary,
that never was it known that anyone who fled to thy protection,
implored thy help, or sought thy intercession, was left unaided.
Inspired by this confidence, I fly unto thee, O Virgin of virgins, my Mother.
To thee do I come, before thee I stand, sinful and sorrowful.
O Mother of the Word Incarnate, despise not my petitions,
but in thy mercy, hear and answer me.
Amen.
Respectfully,
Rob Rysavy
President
St. Mary's High School