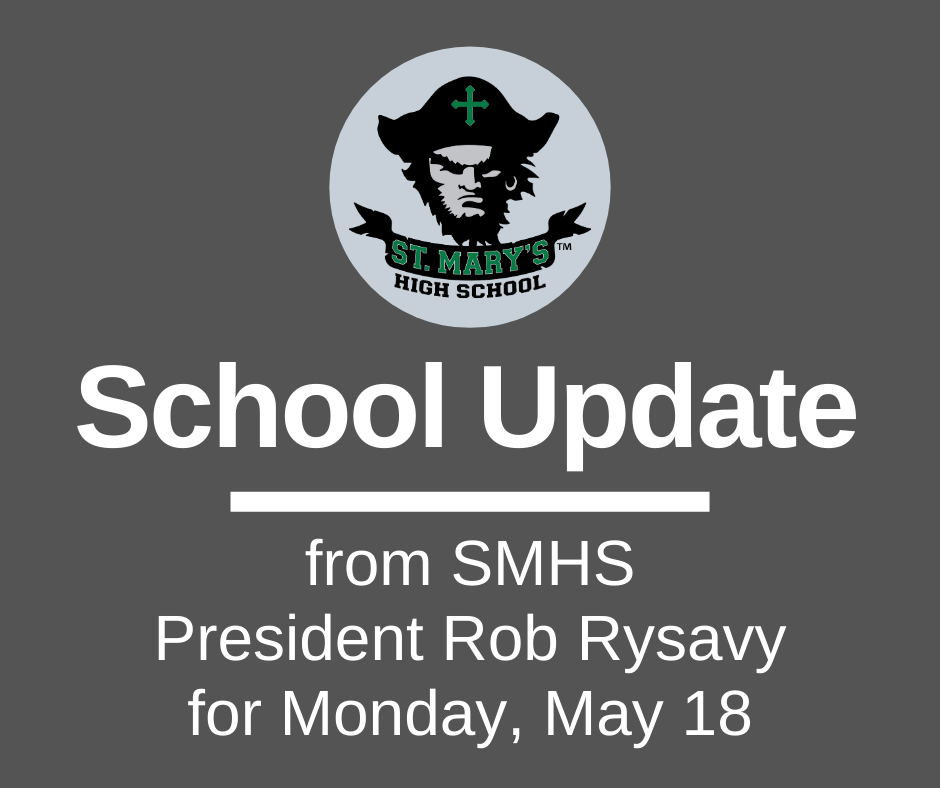 School UPDATE: Monday, May 18
St. Mary's High School
Monday, May 18, 2020
St. Mary's Families,
WEEKLY update. Lots of info here. Read on. "See" you next week.
President Video.
- Weekly video update. You want the easy snapshot of what's up in five minutes, here it is:
https://youtu.be/yrSvV2Cus1Q
Daily Homework.
- SAINTS & VERSES. Since e-mail updates will *generally* be once per week this summer, instead of giving you the Saint of the Day every day, I'm going to give you a couple of daily homework assignments.
- Here are two pretty good resources for learning more about the saint for any particular day. The write ups are short and will take you less than two minutes to digest. Choose your heroes wisely, these are heroes of Faith.
www.franciscanmedia.org/sod-calendar (Easy to navigate calendar, most saints also have a 90ish second audio blurb)
www.catholicnewsagency.com/resources/saints (Catholic News Agency's searchable database of saints).
- Daily Mass readings www.usccb.org/bible/books-of-the-bible/index.cfm (On the upper right side of the page, you'll see a calendar. Click on the day and you'll have the daily Mass readings for that day).
Updates.
- (Reminder) GRADUATION. The governor has APPROVED the outdoor, seniors only high school graduation plans for El Paso county with additional SUGGESTIONS:
-- Students are ENCOURAGED to AVOID vulnerable persons for two weeks following the ceremony.
-- Students are asked to NOT PARTICIPATE in graduation if they have a family member at home who is VULNERABLE.
***CDC definition of vulnerable persons:
www.cdc.gov/coronavirus/2019-ncov/need-extra-precautions/people-at-higher-risk.html
COVID-19 coronavirus.
- WHAT'S GOING ON? You may have seen Governor Polis was in the news for addressing some of the issues with COVID-19 reporting. It appears Colorado has been counting the death of anyone WITH COVID-19 as being CAUSED by COVID-19. That is in the process of changing, and that will reduce the number of deaths in Colorado CAUSED by COVID-19 by almost 30 percent. So... We can argue endlessly about numbers and data and the rationale for restrictions; or... We can make the best of the circumstance in which we find ourselves. Be smart, at all times be smart.
www.cdc.gov/coronavirus/2019-nCoV/index.html
covid19.colorado.gov/
What's Next?
- SUMMER. Parents and students, you have labored mightily this year, particularly over the last two months. What are you going to do this summer to hold on to the gains you've made? What GREAT BOOK are you going to READ this summer? What are you going to do to make each day a little better than the previous day?
Pirates in the News.
- GIRLS BASKETBALL: By now you are probably aware that long-time girls basketball Head Coach Mike Burkett is retiring. Coach Burkett (Mike) is being replaced by his long-time assistant Coach Burkett (Kyle). You may have figured out that Coach Kyle, in addition to being Coach Mike's long-time assistant is also Coach Mike's long-time son. The program is in good hands. Here is the new Coach Burkett's great interview with KKTV:
www.kktv.com/content/sports/Meet-St-Marys-new-girls-basketball-coach-Kyle-Burkett-570553421.html
- ST. MARY'S MEDICAL PROFESSIONALS. Read our blog article about SMHS '11 graduate Colleen Berenguer, who is a nurse serving on the front lines of the COVID-19 battle.
https://stmaryspirates.wordpress.com/2020/05/15/covid-19-profile-colleen-berenguer-11/
Reminders.
- SENIORS. FAVORITE ST. MARY'S MEMORY. Please get those great memories e-mailed to Amy Partain (apartain@smhscs.org). Maybe parents can supply an encouraging nudge to your graduating seniors to share those memories?
How You Can Help.
- BALLOT INITIATIVE. From Mary Simmons, St. Mary's parent and Students for Life club adviser: Some of you had the opportunity a few months ago to sign the "Due Date Too Late" Ballot Initiative 120 petition which would put a statute change on this November's Colorado ballot to ban abortion in our state after 22 weeks of gestation, the point of viability of the baby outside of the womb. Colorado is one of only seven states in the country that sadly still allows abortion for any reason up until birth with no restrictions. This initiative would allow Colorado to say "NO" to late term abortion and would be a good first step in saving precious lives. We needed 124,632 valid signatures statewide to get this initiative on the ballot and came up about 10,000 short during the first signing period so we are now entering a 15-day "cure" period from May 15-29 during which we have the opportunity to collect the additional needed signatures. If you are at least 18 and a registered voter, and if you DID NOT SIGN THE PETITION THE FIRST TIME AROUND and would like to, I would be happy to don my mask and grab my hand sanitizer and bring a petition to you to sign! For more info or to coordinate a time to meet, please call/text me at 719.233.1558 or email me at Simmonsmjm@aol.com. Thank you! For LIFE
Fun Parting Fact.
- Happy Birthday, St. John Paul II, who would have been 100 years old TODAY. He had a tremendous devotion to the Blessed Virgin Mary, and as such serves as an excellent role model for us.
Prayer.
Here's your other summer homework assignment: Please CONTINUE to pray with us EVERY DAY this summer:
THE MEMORARE
Remember, O most gracious Virgin Mary,
that never was it known that anyone who fled to thy protection,
implored thy help, or sought thy intercession, was left unaided.
Inspired by this confidence, I fly unto thee, O Virgin of virgins, my Mother.
To thee do I come, before thee I stand, sinful and sorrowful.
O Mother of the Word Incarnate, despise not my petitions,
but in thy mercy, hear and answer me.
Amen.
Respectfully,
Rob Rysavy
President
St. Mary's High School