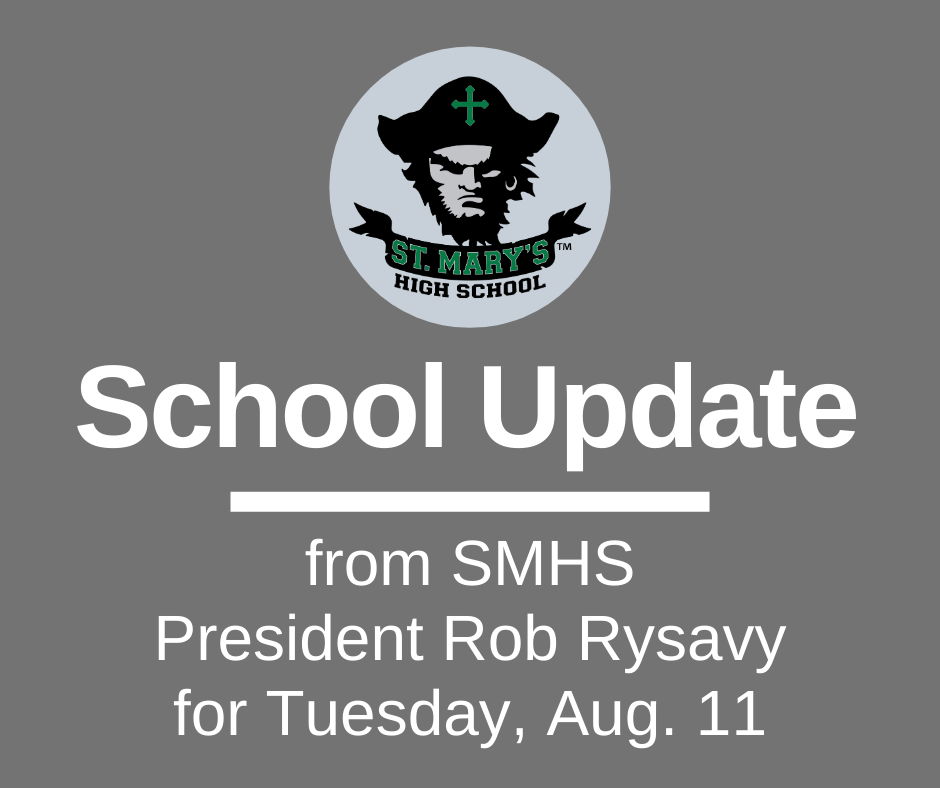 School UPDATE: Tuesday, Aug. 11
St. Mary's High School
Wednesday, August 12, 2020
St. Mary's Families,
Today you get an update from me. Mr. Biondini's communications will generally be concise and to the point. As you know with me, my communications will be long (maybe painfully long...) and detailed. That said, please read on!
Daily Mass readings and Saints of the Day. What are you reading and who is your hero?
www.usccb.org/bible/books-of-the-bible/index.cfm
www.franciscanmedia.org/sod-calendar
Updates...
- Hybrid Teaching. WHY HYBRID? As we mentioned in our video parent meetings, hybrid is one of the three options we had to consider. Here are some amplifying thoughts to help understand the decision we made and announced yesterday to start in the hybrid learning model:
-- The primary drivers/background for the hybrid decision were: (1) Student safety, (2) Staff safety, and (3) We are leaders in the education community, and we are still starting earlier and "more" in person than any school district in the city.
-- Student Safety. The challenge that brings us to hybrid as the best solution is our commitment to balancing social distancing with the need to get kids in the school. BOTH are vital. We could not find a feasible means to keep adequate social distancing without going to a hybrid instruction model.
-- Staff Safety. The research is increasingly clear that student-age children are pretty resistant to COVID-19, not immune to COVID-19, but resistant. The research is also strikingly clear that older adults, particularly those over 60, are at much greater risk. Slightly more than half our St. Mary's employees are over 60. Social distancing is important for our students, and very important for our teachers. Again, hybrid is the only way to accomplish adequate social distancing.
-- We Continue to Lead. We agree with the director of the Center for Disease Control, kids need to be in school. With this Friday's "Super Hybrid" day, we are "starting" earlier than any school district in the city. We are also more committed to in-person instruction than any school district in the city.
- Educational Approach. The hybrid model does not mean students are in school half the time and on their own half the time. In our hybrid model, we are combining IN-PERSON TEACHING with REMOTE TEACHING. Our students will be in class, at their regularly scheduled times, Monday through Thursday. For example, the "Group A" students will be physically in the classroom Monday and Wednesday. On Tuesday and Thursday the "Group A" students will be logged into the SAME classes at the SAME times interacting with the SAME teachers. They will not be learning on their own, they will be "in" class. We want to get back to Friday classes as soon as we can, but here at the start of the school year we believe that using Friday for a deep clean of the facilities and setting aside time on that day for teacher office hours to have video or phone meetings with individual students makes more sense.
- Facility Safety. Speaking of cleaning and disinfecting...
-- Antiviral polymer coatings. Decades of research point to the effectiveness of persistent (up to six months), non-toxic, antiviral polymer coatings. These coatings have been used for years and can be 99.99 percent effective at killing viruses (as well as bacteria and funguses/fungi). How do they work? The coating is made up of microscopic "spikes" that pierce the outer layer of viruses and bacteria, killing them. The spikes are far too tiny to hurt, or even be felt by, humans. In our local area, Valor Christian up in Denver has been using these coatings for several years. Why aren't they more widely used? They're expensive! That said, it's a worthwhile investment, so next week we are going to invest $8,000 to protect every "touchable" surface in our entire academic campus with this coating.
-- Contract cleaning. While we are in the phase with no Friday classes, we are contracting with an outside professional cleaning company to do a deep cleaning of the entire school.
-- Daily cleaning. After each class, students and teachers will disinfect all high touch surfaces (desks, chairs, light switches, door handles, etc.).
- Individual Safety. All of us—parents, students, staff, teachers—MUST take responsibility for our individual safety. We are setting conditions here in the school where we can make the argument that the cleanest, most disinfected, safest place our students will be during the day is at St. Mary's. That disinfecting discipline needs to come home and reside with you in your house and daily lives. We can keep our students and staff safe here in the school, but we're relying on you to do the same at home and out in public. Wear your mask, wash your hands, keep your distance.
- Sports. By now you probably have seen/read that sports in Colorado are going to be very different this year. All 29 Colorado High School Activities Association (CHSAA) sports are scheduled to have a season, but most seasons will not take place during their "normal" (there's that obsolete word again) timeframe. Attached is the CHSAA sports season plan for the 2020-2021 school year as of last week.
What's Next?
- THIS FRIDAY, August 14. Watch your e-mail tomorrow (Wednesday) for CLASS SCHEDULES and a Friday schedule for your student(s). Normally we would have those schedules and our early semester plans distributed already. As you know, "normal" is no longer a part of the global vocabulary.
- NEXT WEEK. Monday and Tuesday we will assess lessons learned from this Friday, and adjust our plans accordingly to begin the hybrid instruction for EVERYONE, not just Freshman, on WEDNESDAY, August 19. August 19 will be Group A in the school, Group B logged in their classrooms from home. Thursday, August 20 will be Group B in the school, Group A logged into their classrooms from home. No school on Friday for a deep clean of the facilities.
COVID-19 coronavirus.
- More than 5,000,000 cases and 160,000+ deaths in the US this year from COVID-19. That is more deaths than US combat deaths in World War I (1914-1918), the Korean War (1950-1953), the Vietnam War (1964-1975), the Persian Gulf War (1991), the War in Afghanistan (2001-2020) and the War in Iraq (2003-2011)... COMBINED. We can say what we want about the statistics on the age and underlying health conditions of the deceased, that's still more than 160,000 grieving families.
- COVID-19 cases in the US and Colorado are trending down. Let's keep it that way...
www.cdc.gov/coronavirus/2019-nCoV/index.html
How You Can Help.
- PATIENCE and FLEXIBILITY. More changes are coming. We will adapt to those changes as quickly as we can and do our best to communicate changes to our families as quickly as we can. Please be patient and please be flexible.
Prayer. Speaking of patience, when we feel we are your running out of patience, that's a sign we're supposed to be praying:
THE MEMORARE
Remember, O most gracious Virgin Mary,
that never was it known that anyone who fled to thy protection,
implored thy help, or sought thy intercession, was left unaided.
Inspired by this confidence, I fly unto thee, O Virgin of virgins, my Mother.
To thee do I come, before thee I stand, sinful and sorrowful.
O Mother of the Word Incarnate, despise not my petitions,
but in thy mercy, hear and answer me.
Amen.
Respectfully,
Deacon Rob Rysavy
President
St. Mary's High School