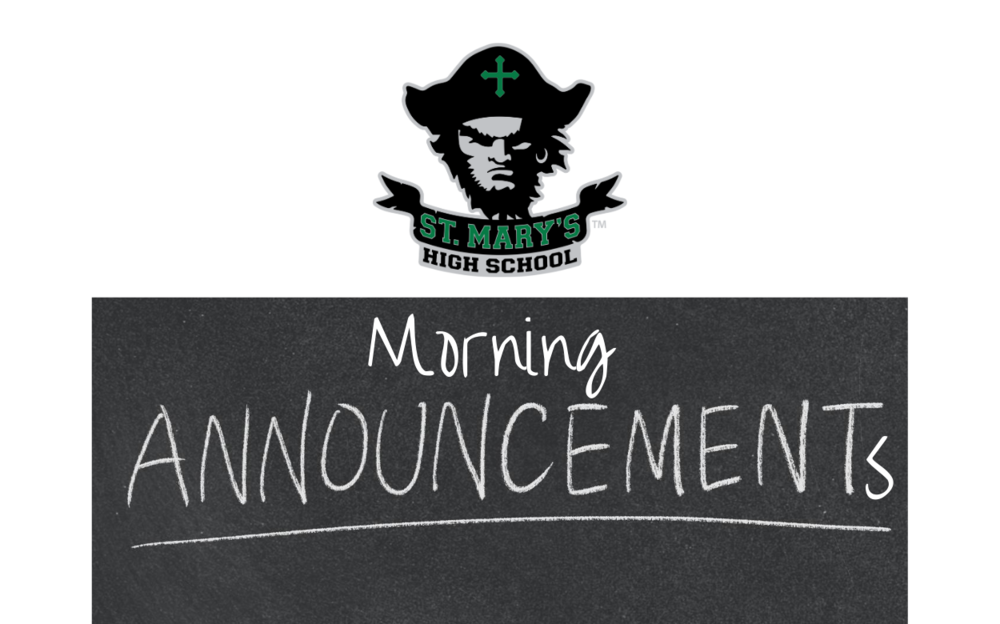 Announcements: Monday, Aug. 24
St. Mary's High School
Monday, August 24, 2020
Good morning Pirates, today is Monday, August 24th. It's the feast of St. Bartholomew

Students remember: Masks are required covering your face AT ALL TIMES WHEN ON CAMPUS—that includes parking lots! Please maintain single file/appropriate social distancing moving through the halls and remember, two at time in the rest rooms.
Students also note: DO NOT STOP AT YOUR LOCKERS BETWEEN CLASSES; locker times will be worked out. Right now, you can access them before school, during lunch, and as you leave. Be aware of others and please don't bunch up!
There is only one lunch now and the Cove is reserved for freshmen for the first month of school. NO MEALS ARE BEING SERVED OUT OF THE COVE: drinks, chips and crackers are available. Students will 'sign up' for eating in classrooms—please note the limits for those; also spread yourselves out in the Courtyard.
LifeTouch will take student and faculty pictures on today and tomorrow depending on your group assignments.
Any student interested in running cross country this year, see Mr. Kloenne before or after school—or at lunch!
Any Pirates interested in keeping the Jolly Roger alive, please see Ms. Knoepke before or after school—or during lunch. We need writers, photographers, artists, etc., to help out even I your schedule doesn't allow you to take journalism.
If you are interested in finding out more about our Competitive Shooting Team, there will be a new athlete event on Sunday, September 13th at 2:00 p.m. at the Pikes Peak Gun Club.
Attention Freshmen: If you were in the 9 am-11 am group on Tuesday for orientation, please see Ms. Cummings in the Admissions Office during your lunch today or next week to pick up your Pirate Pride T-shirt. They were not delivered until the afternoon so they were not available to pass out in the morning.