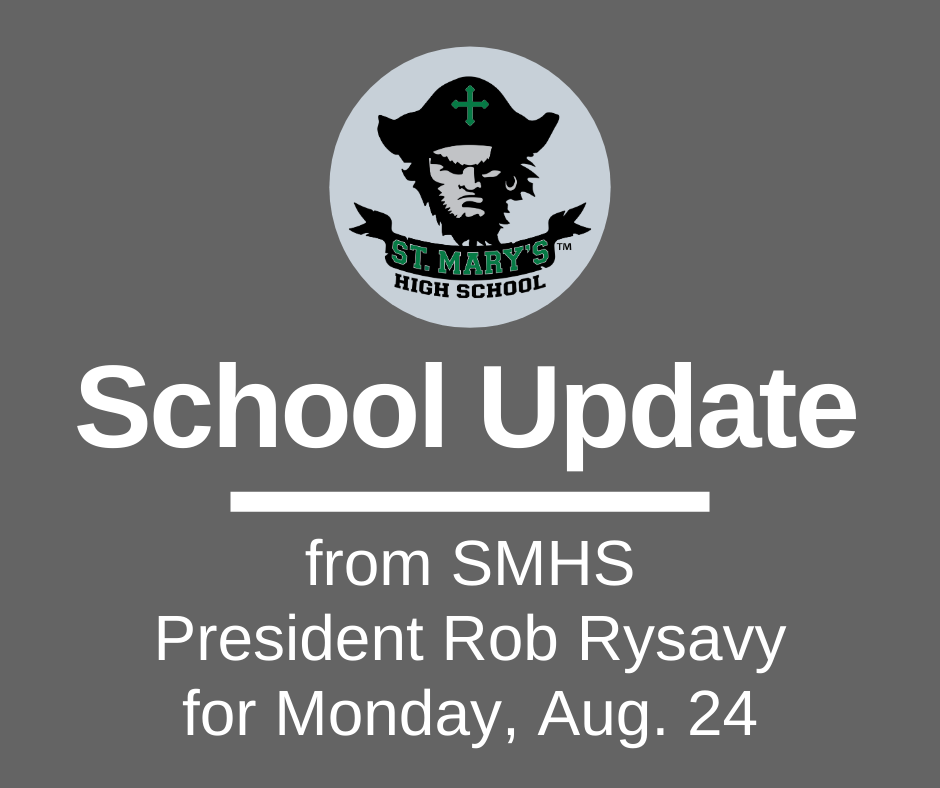 School UPDATE: Monday, Aug. 24
St. Mary's High School
Tuesday, August 25, 2020
St. Mary's Families,
Prayer.
Everything we do at St. Mary's begins with prayer. Please pray with us: THE MEMORARE Remember, O most gracious Virgin Mary, that never was it known that anyone who fled to thy protection, implored thy help, or sought thy intercession, was left unaided. Inspired by this confidence, I fly unto thee, O Virgin of virgins, my Mother. To thee do I come, before thee I stand, sinful and sorrowful. O Mother of the Word Incarnate, despise not my petitions, but in thy mercy, hear and answer me. Amen.
We Lost a Family Member.
- JIM PEPPER. We were deeply saddened to hear of the passing of Jim Pepper last Friday. Jim is the parent and grandparent of St. Mary's graduates and current students, he coached at St. Mary's, and was a long-time and passionate supporter of Pirate sports programs. Jim battled a long illness in a manner that you would expect from one of the toughest and most compassionate people in the St. Mary's family. Our thoughts and prayers go out to the entire Pepper family.
Updates.
- RETURN TO SCHOOL GUIDANCE. Our return to school guidance is now posted on the website. For the always most current iteration of the plan, go to www.smpirates.org, and click on "COVID-related plans and procedures." There is much guidance and rationale in that 16-page document. PLEASE READ THROUGH IT. This document will be reviewed and, if necessary, updated WEEKLY. We will keep you posted on any changes.
- PORTALS TO INFINITE CAMPUS. Not ready yet. As soon as the portal access for students and then parents is completely ready, then we will send out an email to everyone to activate each of your accounts.
- APP FOR INFINITE CAMPUS. Not ready yet. As portals are activated, we will ask you to download the Infinite Campus app, but it won't work until AFTER the student and parent portals are activated.
- FRIDAY PLANS.
-- This Friday, August 28, we will be on a standard early release schedule, and we will be in remote instruction for BOTH GROUPS.
-- The following Friday, September 4, will be a SENATE COMMUNITY DAY at The Grace Center from 8 am to 12 pm. We will have an outdoor, social distanced, everyone in a mask all-school Mass followed by some fun activities. Details to follow.
-- On Friday, September 11, we will resume remote instruction for both the A and B groups on the early release schedule.
- TEACHER FRIDAYS. One of the compelling reasons for early release Fridays is to give our teachers some time on Friday afternoons for professional development and for teacher collaboration time. The education world continues to change at a dizzying rate. We are making sure that we are making time every week to provide our teachers with opportunities for development and with collaboration time.
- CLASSROOM TECHNOLOGY. We have a few classrooms that need better sound and better cameras for the students in remote instruction. Some of that equipment will be paid for with federal CARES Act funds and was requested in early July. We are navigating the bureaucracy.
How You Can Help.
- HEALTH SCREENING. Parents, please pre-screen your students at home by asking questions about how they are feeling. We will check the temperature of every individual who enters the building. If your students are ill or have any illness symptoms, PLEASE KEEP THEM HOME.
- TRAFFIC. Be mindful of the traffic flow at drop off and pickup times, particularly those dropping off freshmen and sophomores. If you have just dropped off a freshman, please check to your left that a car is not going around you up to the sophomore drop off before you merge back into traffic. As always, watch your speed. The more you control your speed, the more you exercise great care, the smoother (and quicker!) traffic will flow in the morning and afternoon.
Reminders.
- CLASSROOM DISTANCING. Classrooms are getting better. To correct the remaining classrooms that still have too many students, we MIGHT need to move some students between the A and B Groups. IF we do that, we WILL take into account things like sibling groupings, transportation, etc.
- LUNCH DISTANCING. We can improve here. Please remind your students that if their mask is off (e.g., during lunch), they MUST be at least six feet from all other students and staff.
COVID-19 coronavirus.
- TRENDS. Yesterday, August 23, saw the lowest number of new cases in the US in almost two months. Let's keep it that way: Wash your hands, keep your distance, wear a mask.
Daily Mass readings and Saints of the Day.
www.usccb.org/bible/books-of-the-bible/index.cfm
www.franciscanmedia.org/sod-calendar
Respectfully,
Deacon Rob Rysavy
President, St. Mary's High School