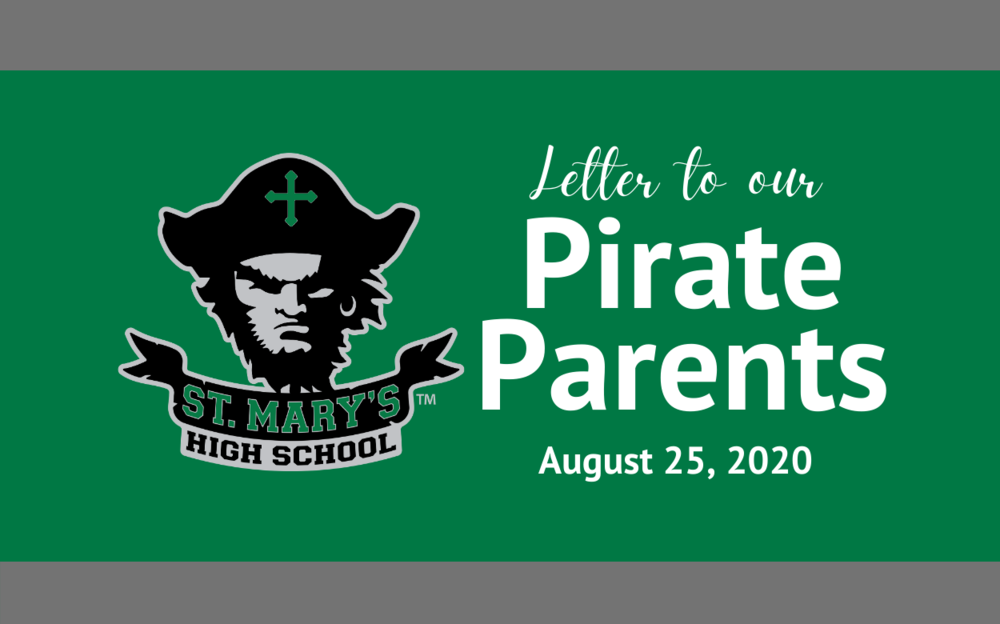 Parent Letter: August 25, 2020
St. Mary's High School
Thursday, August 27, 2020
Dear Parents,
As always, thank you for your continued support of St. Mary's High School. Please do not hesitate to reach out to us with suggestions, concerns, ideas and comments. As we continue to evolve in an ever-changing educational environment, we will use your input to better tailor the best possible learning atmosphere and instructional setting, which seems to be impacted on a daily basis with new studies, guidelines and predictions. As of the end of school today, students will have experienced roughly 14 hours of in-person and 14 hours of remote learning.
We utilized your comments from August 19 and 20 to address educational impact areas; we need those inputs again this week as we move forward. Our faculty and staff have worked hard developing and refining their skills in this new world. I feel that no group of high school educators anywhere have worked harder and longer in the never-ending quest to revise and improve the hybrid learning experience, not only for your students but for themselves as educators.
Here are some actions we are currently working on that were initiated by last week's parent input:
-- We are currently determining whether or not there are enough "classroom copies" of textbooks in certain disciplines which could ease the burden of kids needing to haul all their textbooks back and forth from home to school and back again.
-- We spent time last Friday addressing the strengthening of communication between teachers and students in the remote instruction portion of the schedule. Hopefully, you are seeing an improvement this week.
-- We are continuing to stress good health and safety standards including masks, frequent hand washing and sanitizing of books, desks and other "common use items." Deacon Rysavy has commissioned a group to evaluate classroom safety, particularly in the safe social distancing arena. This study will more than likely result in some minimal classroom and group rearranging in an effort to appropriately balance classes for student and staff safety.
-- An area of concern is the social distancing required of students during the lunch break. We are spending a great deal of time asking students to remember to practice six feet of social distancing while having their masks removed as they eat. I am asking for your help in reminding the students that lunch is an important time and we need their help in accepting their responsibility to be appropriate and follow the stated safety protocols.
-- This Friday will be a remote instruction day. Each teacher will communicate their expectations for their particular classes. Friday will follow the Friday early release bell schedule that is posted on our website and attached to this e-mail.
Thank you for walking this journey with us; we are all united for one purpose - your children.
God Bless RTB
Mike Biondini '66
Principal / Guidance Counselor