Our Lady Pirates, who are sitting No. 1 in the Tri Peaks League standings, travel across town tonight to take on Vanguard, the No. 2 team in the league, in what promises to be their biggest game of the regular season! So don your Pirate gear (think green!) and come out to cheer on your Lady Pirates, who need you to be LOUD and PROUD tonight! #SMGirlsBasketball #SMHSPiratePride #GoSMHSPirates #SMHSUnitedByCommunity [Those out of town can watch via the NFHS Network. Cheer loud; we might hear you in Colorado Springs!]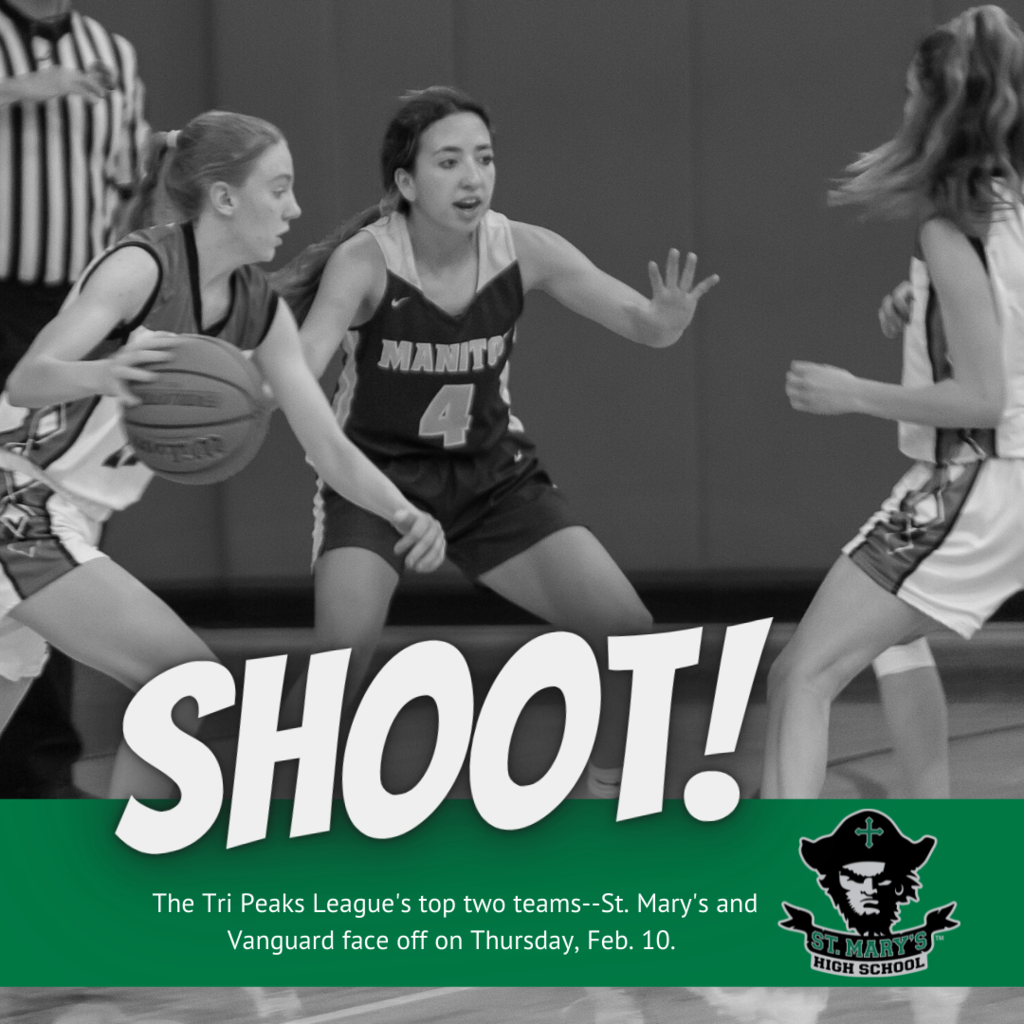 We promise today wasn't ALL fun and games, although you might not believe it looking at these photos. This morning's Pirate Period was House activity day and Gallavan House played hide and seek. A couple of them hid so well they weren't found. (Well, eventually; no one missed class.) Then this afternoon Mr. A was skateboarding in the hallway. Not sure why, kudos to him to being brave enough to try! Our community spirit is one thing that sets St. Mary's apart. #SMHSUnitedByCommunity #SMHSPiratePride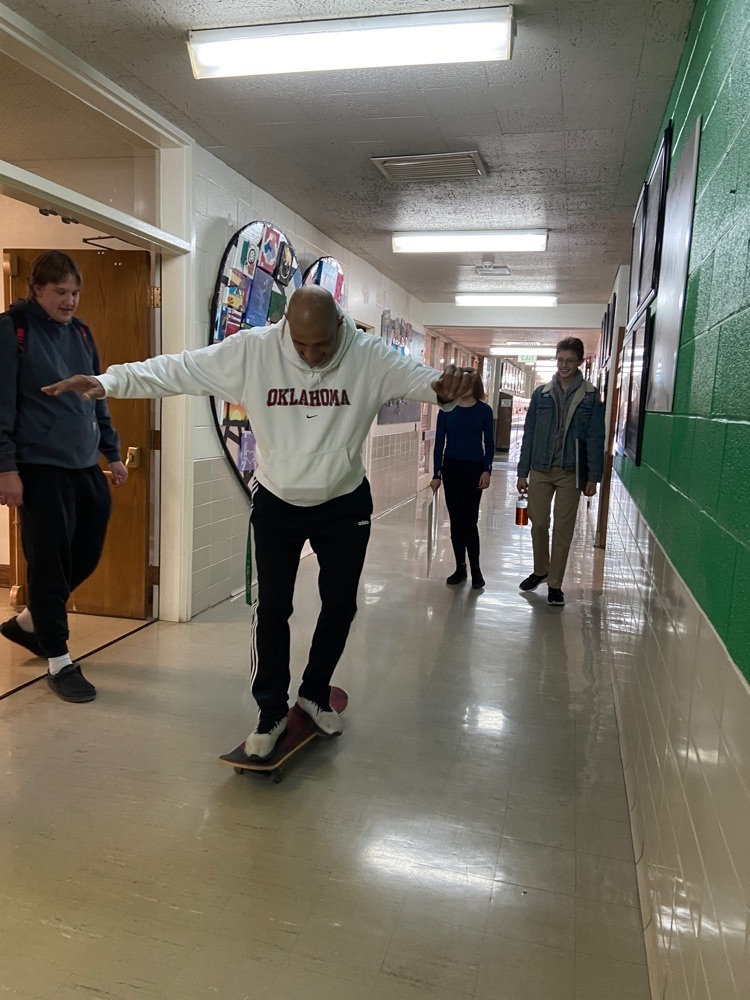 Did you know it's National School Counseling Week? To honor our amazing counselors, we're taking a break from our normal #SMHSTeacherTuesday (and our 2 Truths and a Lie, Teacher Edition) to feature Mr. B and Mrs. Aragon. Both of our counselors are St. Mary's alumni, which provides them with a unique perspective as they help students plan their education. This week they started meeting with students to plan course schedules for the 2022-2023 school year. Their care and guidance of our students is one of the many things that sets St. Mary's apart in the world of education. Thank you, Mr. B and Mrs. Aragon, for your dedication to St. Mary's and its students! #SMHSPiratePride #PiratesOnceAlways

Every day, Mr. Kloenne shares a motivational quote on the white boards outside his classrooms. We thought we would share today's quote as our #SMHSMondayMotivation. #SMHSPiratePride #SMHSUnitedByCommunity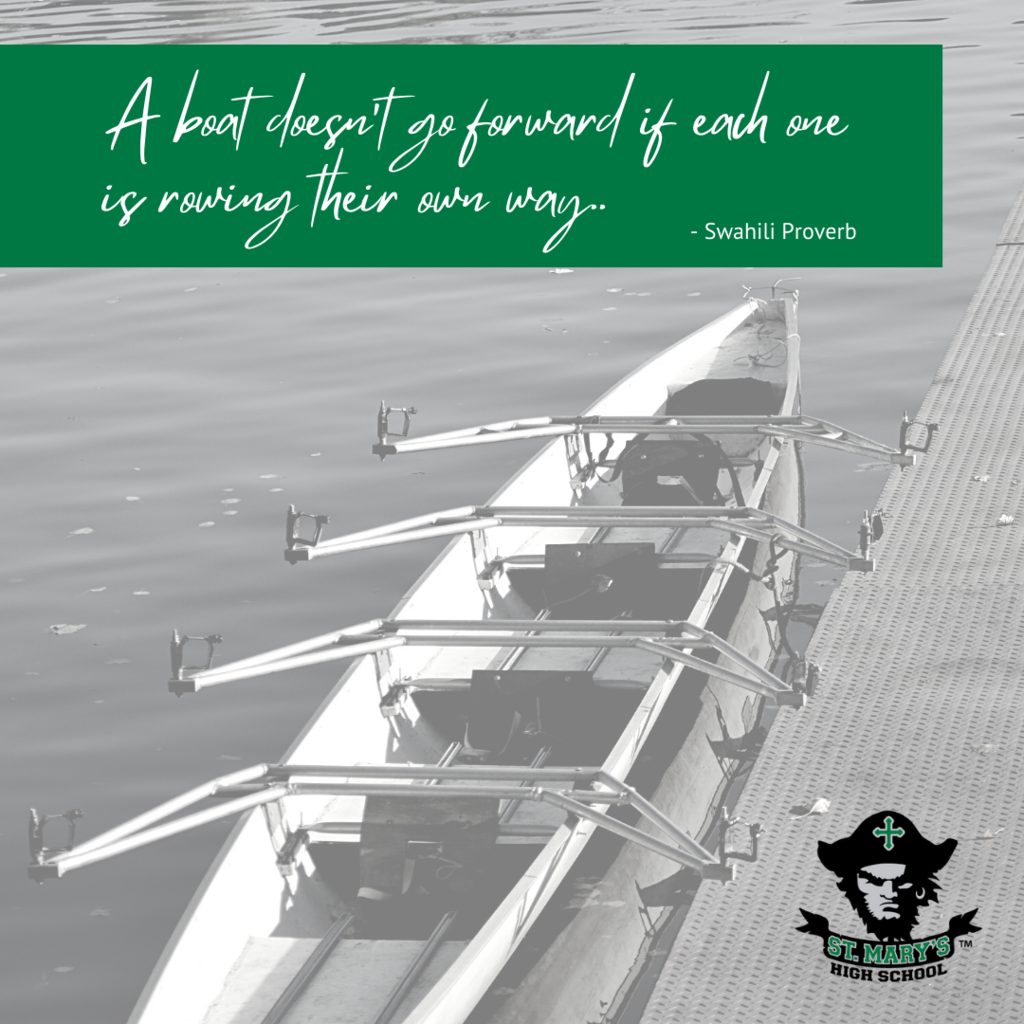 Our Pirate girls and boys basketball games originally scheduled for Feb. 2 have been rescheduled for tonight (Monday, Feb. 7). See the updated times on the calendar on our website (smpirates.org) or our app. Watch live on the NFHS Network. #GoSMHSPirates #SMHSPiratePride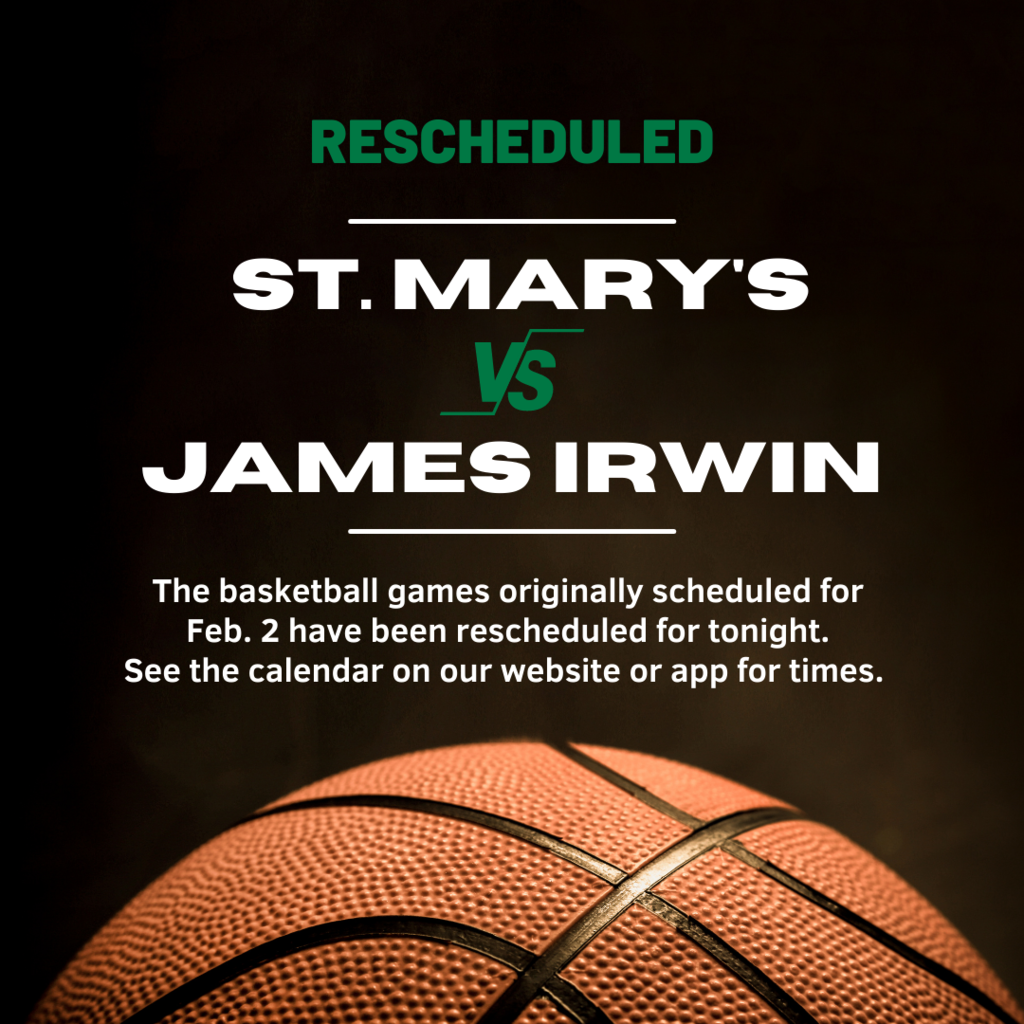 St. Mary's will have an online instruction day on Thursday, Feb. 3, due to winter weather. While the campus will be closed, students should sign in to their classes according to the normal bell schedule, which can be found on our website at
www.smpirates.org/page/current-pirates
Stay safe, Pirates, and we'll see you online Thursday! #SMHSEmpoweredByKnowledge

SNOW DAY! St. Mary's High School will be closed on Wednesday, Feb. 2, due to winter weather. This is a true snow day, so students do not need to log into their classes. Stay safe and enjoy your day, Pirates!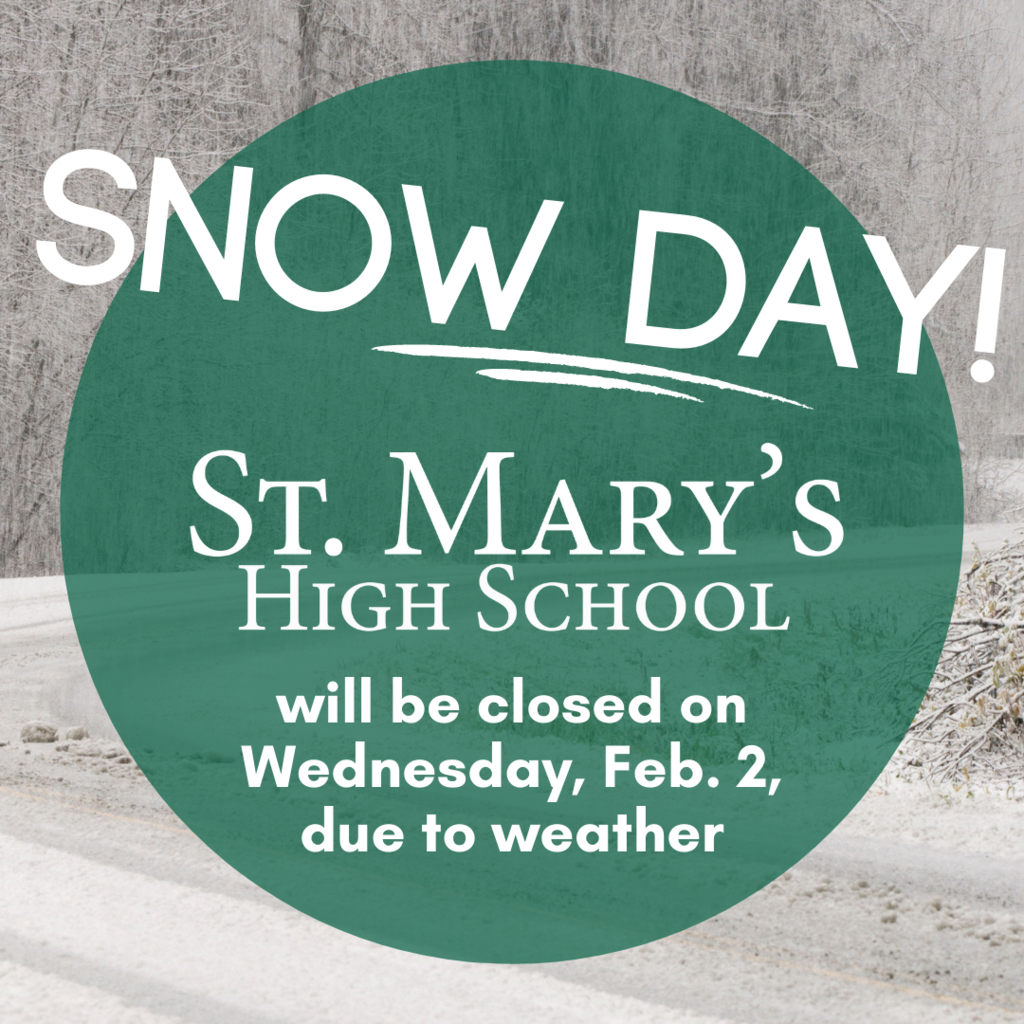 It's the beginning of Catholic Schools Week and we start the week honoring our parents. Parents, we are forever grateful that you allow St. Mary's to partner with you in the education of your teens! We also appreciate all of the support you give to the school, as we couldn't fulfill our mission without you! This morning parents were provided treats at drop off as a small token of our thanks! #CSW#CatholicSchoolsWeek2022#SMHSPiratePride#SMHSEmpoweredByKnowledge (Student journalist Brandon Weis contributed to this post.)

Mrs. Knoepke's "lie" (see yesterday's post) is that she has been at St. Mary's for 15 years. However, in the time that she has been with us, she made wonderful contributions to our community including reviving the Jolly Roger, our student newspaper, three years ago. A collection of stuffed pigs overlooks her classroom. Why pigs? Because since her husband won't let her get the pet pot-belly pig she really wants, her students have gifted her these friends instead. Thank you, Mrs. Knoepke, for all you do! #SMHSPiratePride #SMPiratesTeacherTuesday follow-up on Thursday (Student journalists Andrew Matticola and Brandon Weis contributed to this post.)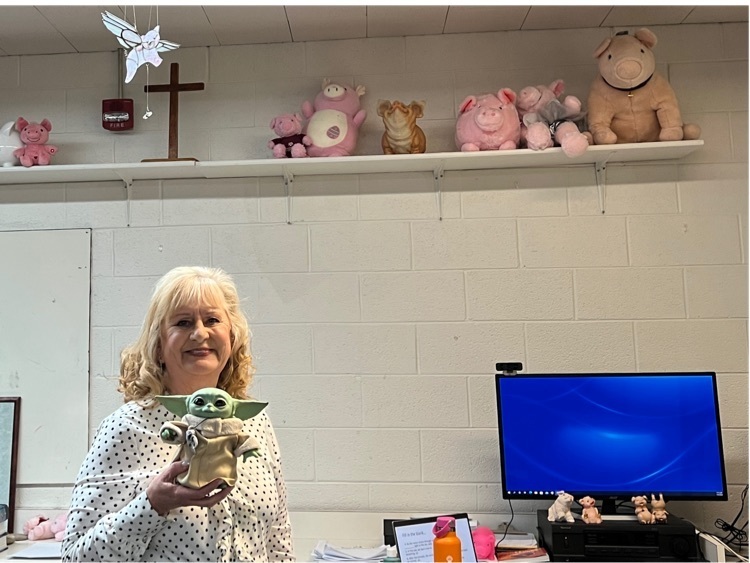 Starting a new series of "2 Truths & a Lie," Teacher Edition, highlighting the amazing teachers we have at St. Mary's High School. One of the items listed in the graphic is a lie. But which one? As you ponder this, here's a little more information about Mrs. Knoepke, our English department chair. She earned her undergraduate degree in English and drama from Colorado College, then obtained a Master of Arts in philosophy and comparative literature, also from CC. In her free time, she enjoys dance, reading and cooking, and her proudest accomplishments are raising two successful children and enjoying her career at St. Mary's. Mrs. Knoepke's favorite thing about St. Mary's is the students. "I enjoy students who have high expectations for themselves and truly want to learn," she said. Her favorite St. Mary's memory is how her first-year St. Mary's AP Language classes made her welcome. What's your guess? #SMHSPiratePride #SMHSEmpoweredByKnowledge #SMPirateTeacherTuesday (on a Wednesday)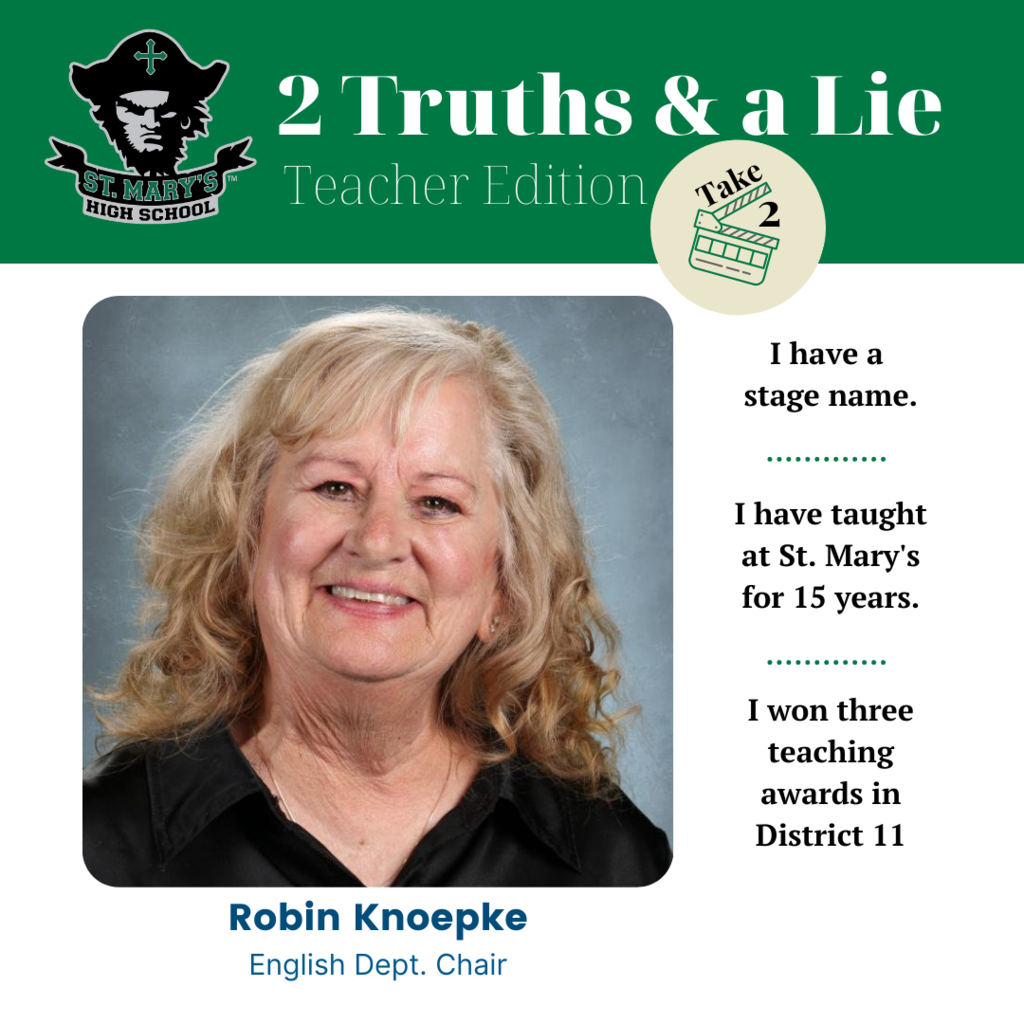 It was a clean sweep for the Pirates Friday night against CSCS! The boys hosted the Lions and came away with a big win, keeping them undefeated on the season. The girls traveled across town to the Lions turf, but came away with the victory moving them to 6-2 overall and 3-0 in league play. Great job, Pirates! #SMHSPiratePride #SMPiratesBoysBBall #SMPiratesGirlsBBall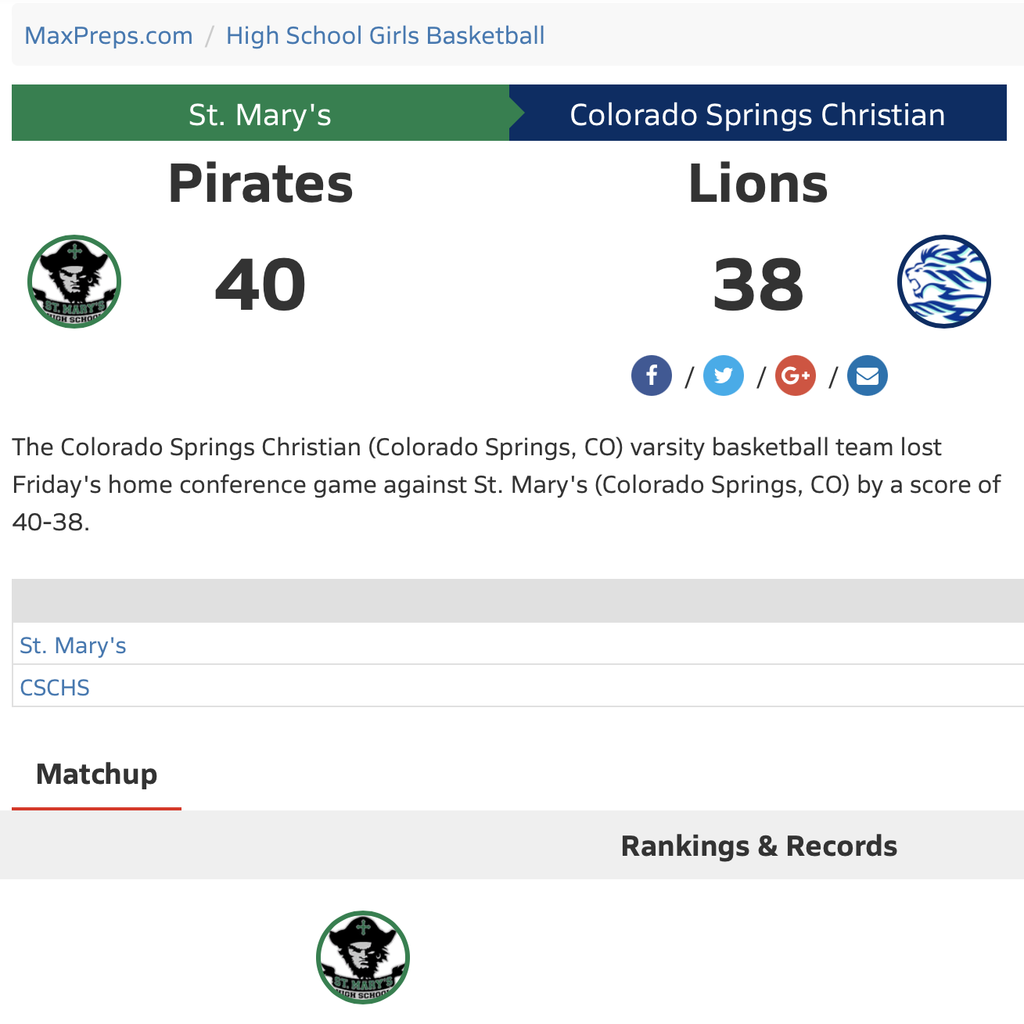 Our Pirate Parent Crew is gearing up for the spring semester! Join us on Monday, Jan. 10, at 7 pm in the Cove as we plan ways to support our St. Mary's students and faculty during the spring 2022 semester. #PirateParentCrew #SMHSUnitedByCommunity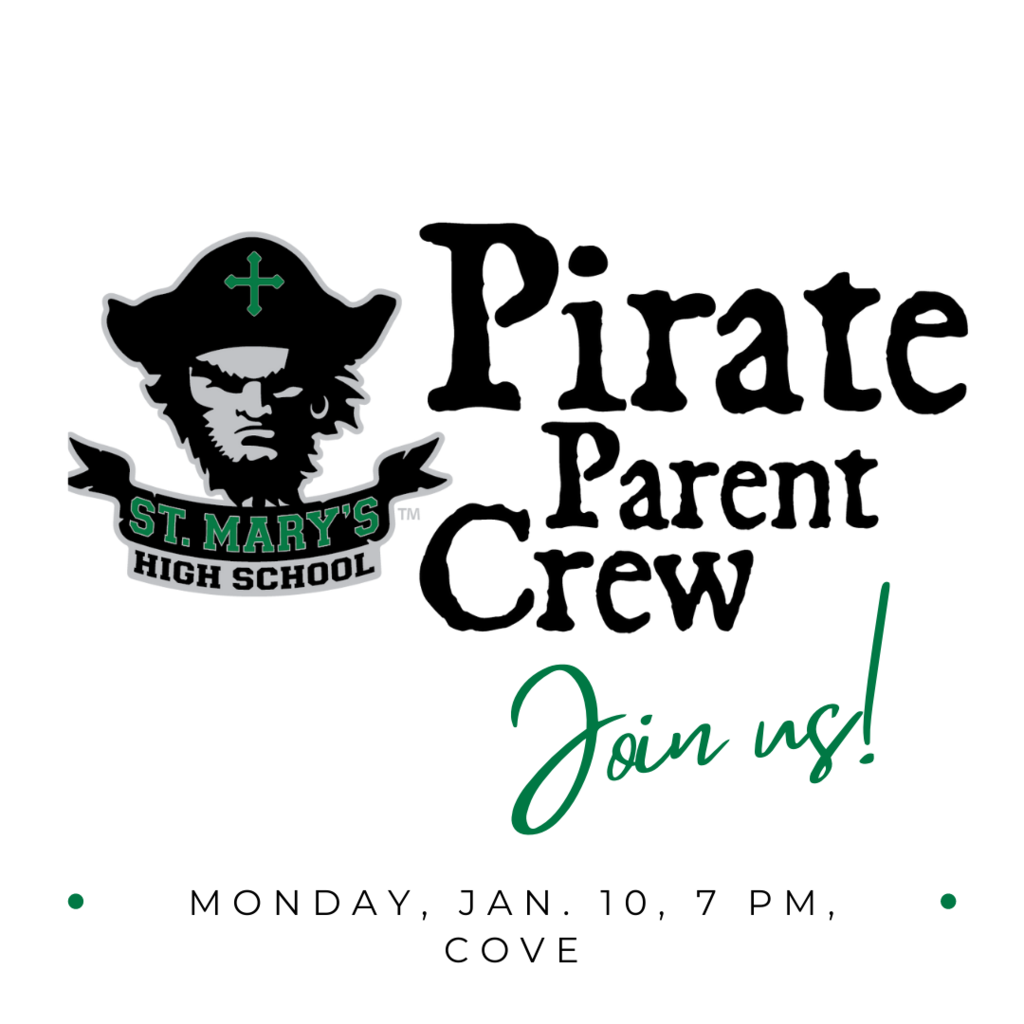 Today our St. Mary's community celebrated the Feast of the Immaculate Conception and honored our grandparents at Grandparents Mass with Bishop James Golka. In his homily, Bishop Golka talked about the importance of Catholic schools in his family, both growing up and now since several of his family members work in Catholic education. He told St. Mary's students that he recognizes the difficulties that our current world situation presents for them and encouraged them to always look toward Christ. "Many of you may have thought in the last year that you are alone or you don't matter," he said. "But those dark thoughts are from the devil. You aren't alone because God is with you and we are here for you too." After Mass, the grandparents had an opportunity to visit with their students, and Bishop Golka, during a reception in the Cove. Then all of our guests had an opportunity to tour the school and visit classrooms. We had a wonderful turn out of families for Mass and thank all of the grandparents who attended. And thanks to all who made today special for our students and grandparents! #SMHSInspiredByFaith #SMHSUnitedByCommunity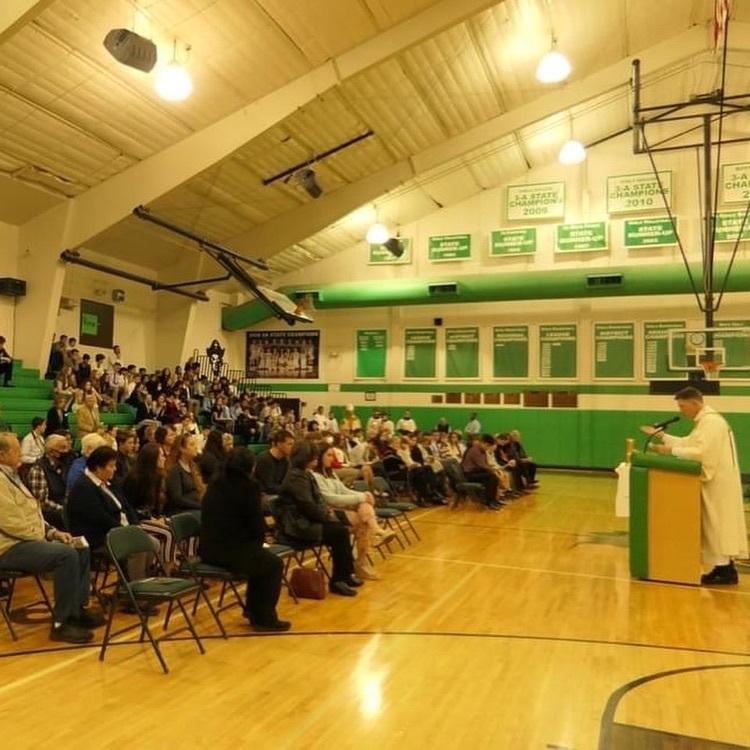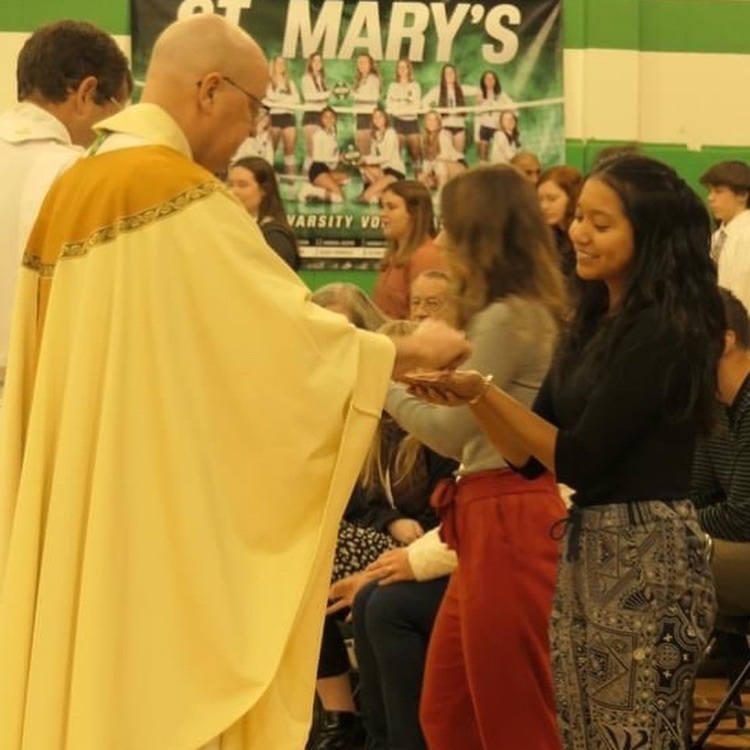 St. Mary's High School is looking for substitute teachers. If you are interested in being added to our substitute teacher list, please contact Candy Garrett at 719.635.7540 or at
cgarrett@smhscs.org
.

For All Souls Day, our Spanish classes put together an Ofrenda, a table dedicated to the deceased. The table is filled with photos, favorite items, and food the family member enjoyed. It was a wonderful way to learn about and honor the culture shared by many in our St. Mary's community. #SMHSInspiredByFaith #SMHSUnitedByCommunity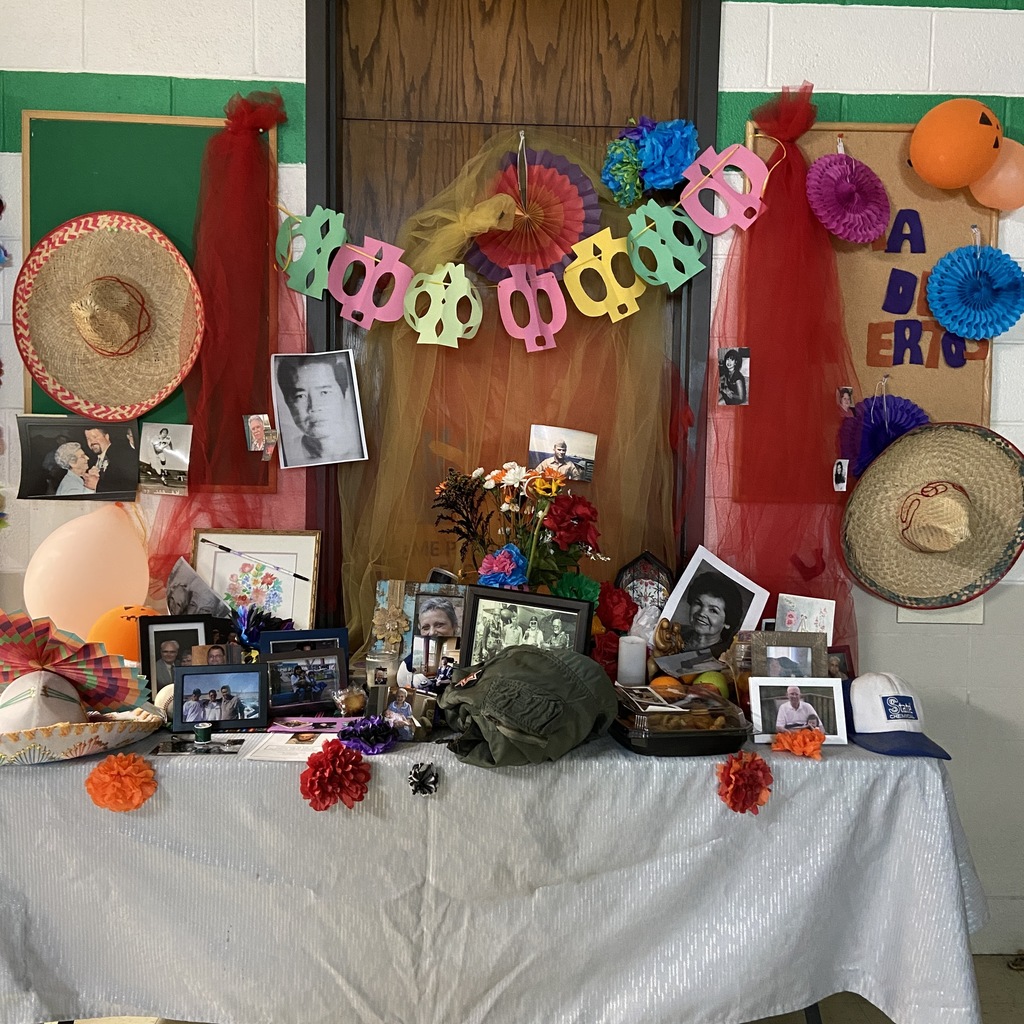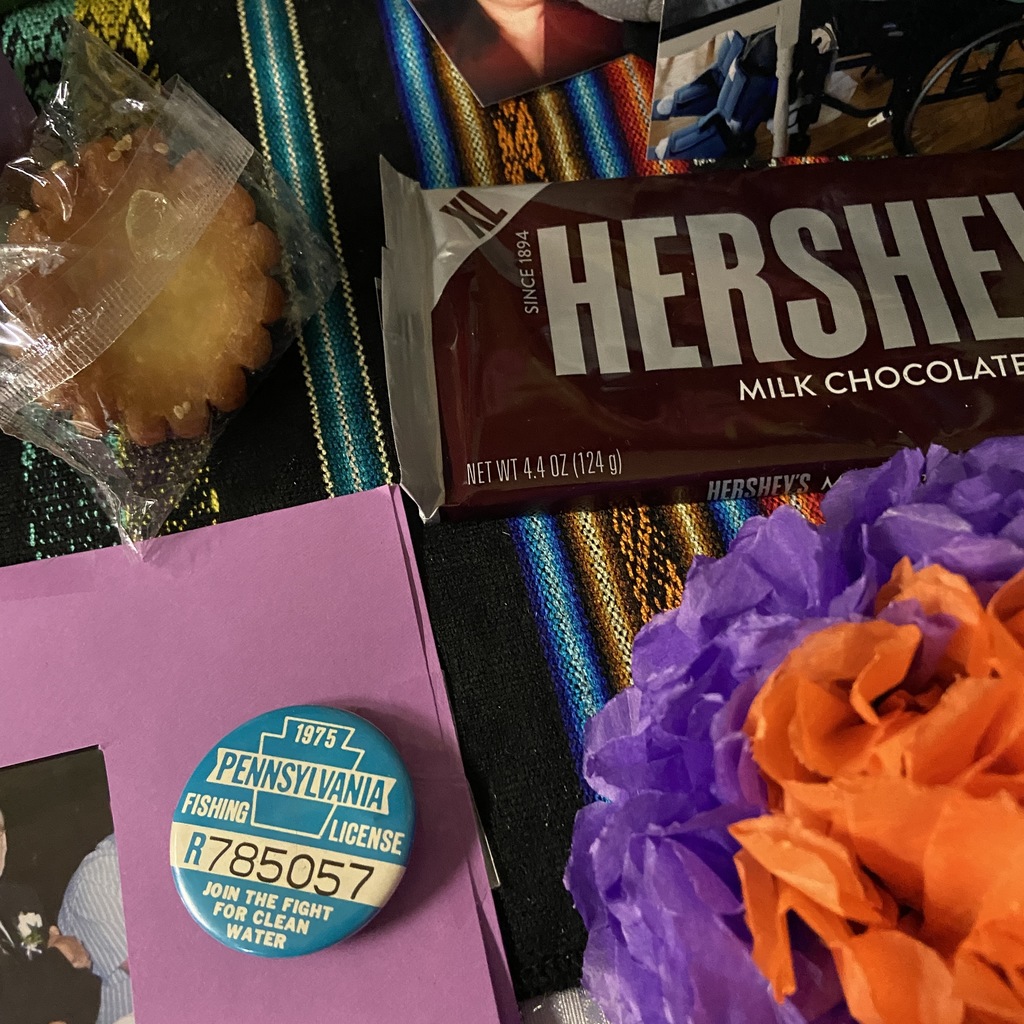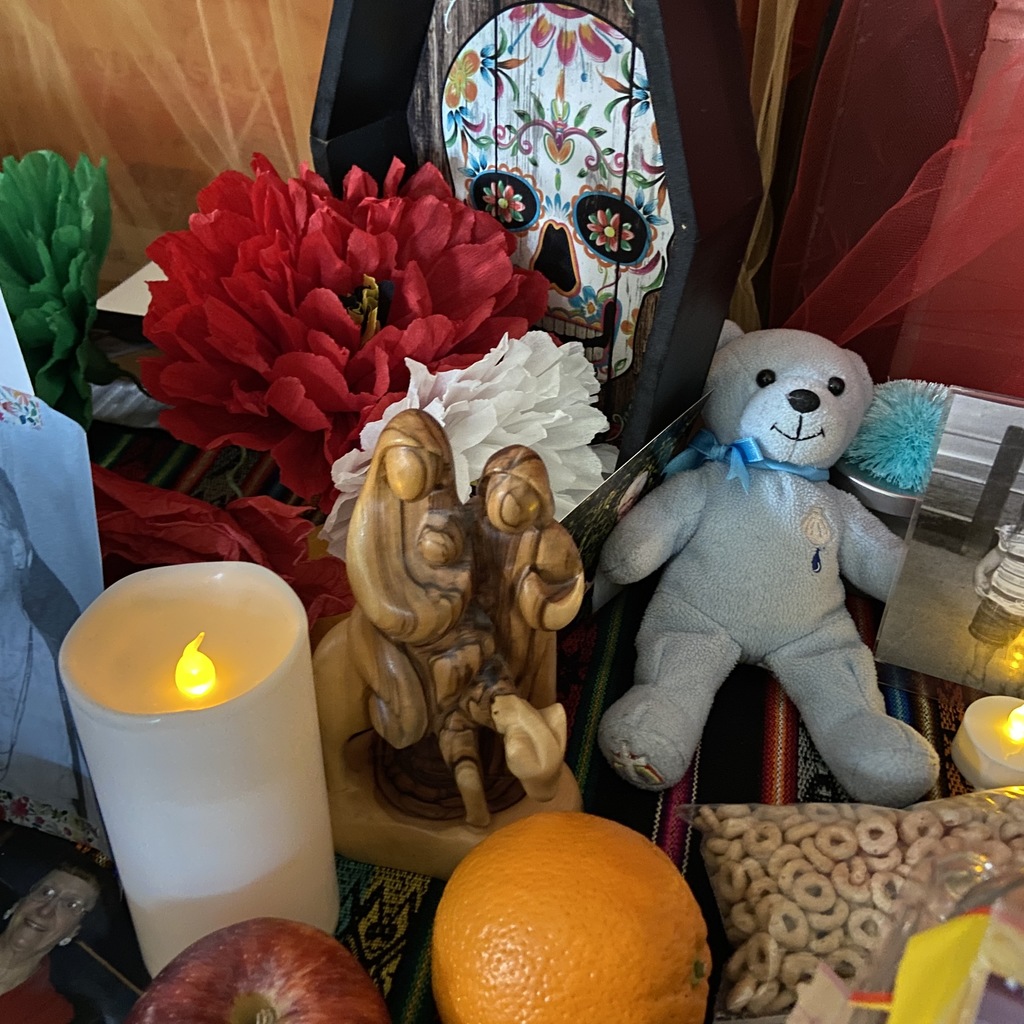 On Oct. 30, our Pirate cross country teams competed in the Colorado 2A Championship Meet. The boys team finished 2nd, bringing home a state trophy for (we believe) is the first time in the school's history. Read more at smpirates.org. #SMPirateXC #PiratesAchieve #SMHSPiratePride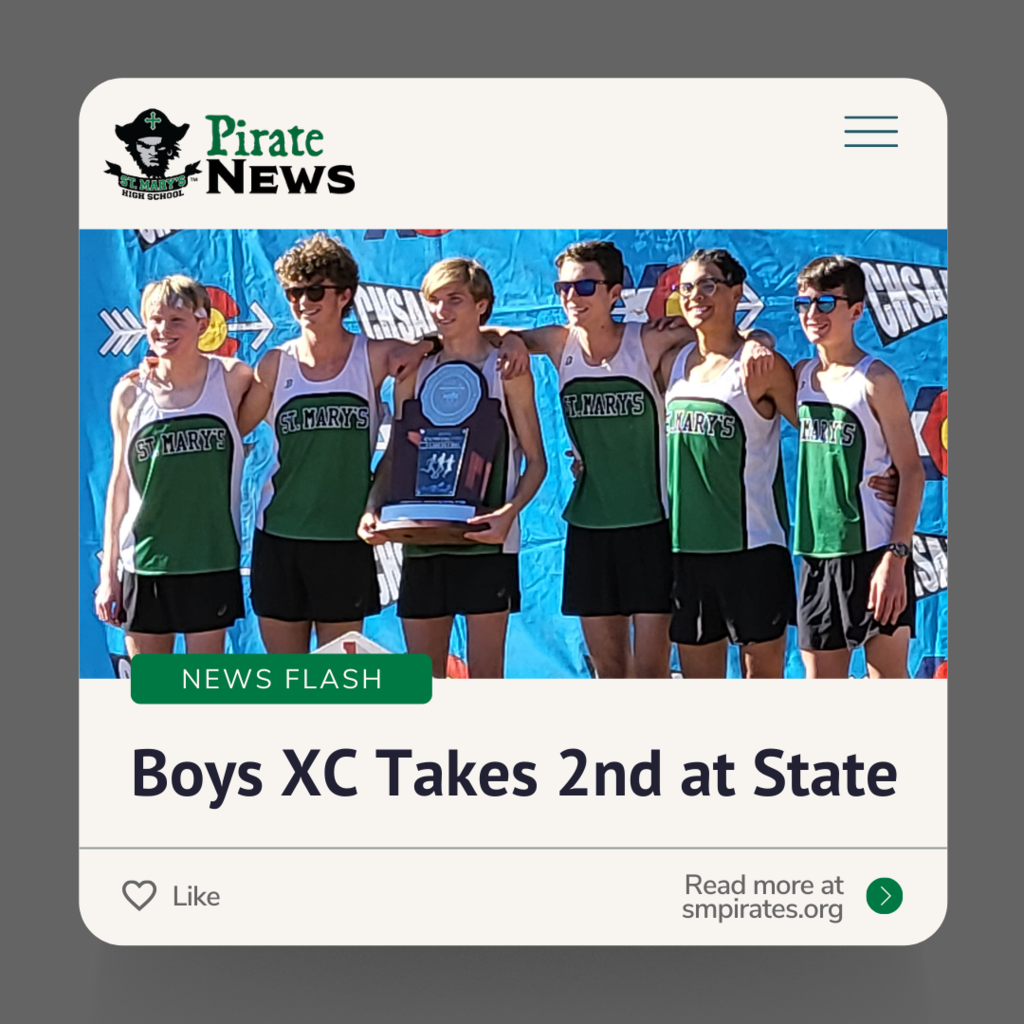 Tomorrow is dress down day! Bring a dollar to dress down. Please see student handbook for further details on dress down day dress code. #piratestudentnews

Congrats to both the boys and girls cross country teams, which both qualified for the state championship meet! The state meet will be at Norris Penrose Event Center. The boys will run this Saturday at 9:45 am and girls at 11 am. Please come out cheer them on! Our St. Mary's boys team took the regional title last weekend! The team was paced by Dylan Brush, who placed first to become the regional champion; Jackson Neppl, who finished third; Lyndon Gotelaere, coming in fourth; and Alex Bodnar, who placed ninth. Rounding out the team are: Jacob Limb, James Beam, Aidan Gold and Brandon Weis. The girls team was paced by Emerald Cordova, Cameron Richter, Arianna Gold, Liz Padrnos and Gretchen Czlatdko. Congratulations, Pirates! #SMHSPiratePride #PiratesAchieve #SMHSPirateXC
Now introducing to you our new and very cool Dean of Students Mr. Archuleta!!! #piratepride #piratestudentnews

The girls volleyball team played their annual Pink Game last night in honor of and raised money for Jen Bowie, St. Mary's class of 1997, who was thrilled to be able to attend the game. Thanks to the generosity of our St. Mary's community, Jen went home with approximately $1,000. And our Lady Pirates went home with a win against Banning Lewis Academy in 3 sets (25-12, 25-17, 25-13). #SMHSGirlsVolleyball #PiratesOnceAlways #PiratePride #SMHSUnitedByCommunity