Brooke Johnson '21 has committed and signed a letter of intent to continue her student-athlete career with Iowa State University cheer team. Congratulations, Brooke! #SMHSPiratePride #PiratesAchieve

It's time to celebrate our seniors, who yesterday received class of 2021 yard signs! Luke Hrovat is the first to submit a photo of him with his sign. Thanks for sharing, Luke! Seniors, we would love to share your photo as a way to honor your four-years of hard work. Send photos to Amy Partain, director of Communications, at
apartain@smhscs.org
. #SMPiratesClass2021 #SMHSPiratePride

On National Nurses Day, we would to thank and honor the wonderful nurses in our Pirate Family. We know that the last year has been hard on all of those in the medical community, including nurses who have worked additional shifts, often in communities far from their families, while putting their own health at risk to care for others. Thank you, nurses, for your selfless service and dedication! You can read more about some of the amazing nurses in our Pirate community on our blog at:
https://stmaryspirates.wordpress.com/category/covid-19-profiles/
#PiratesOnceAlways #SMHSUnitedByCommunity #SMHSPiratePride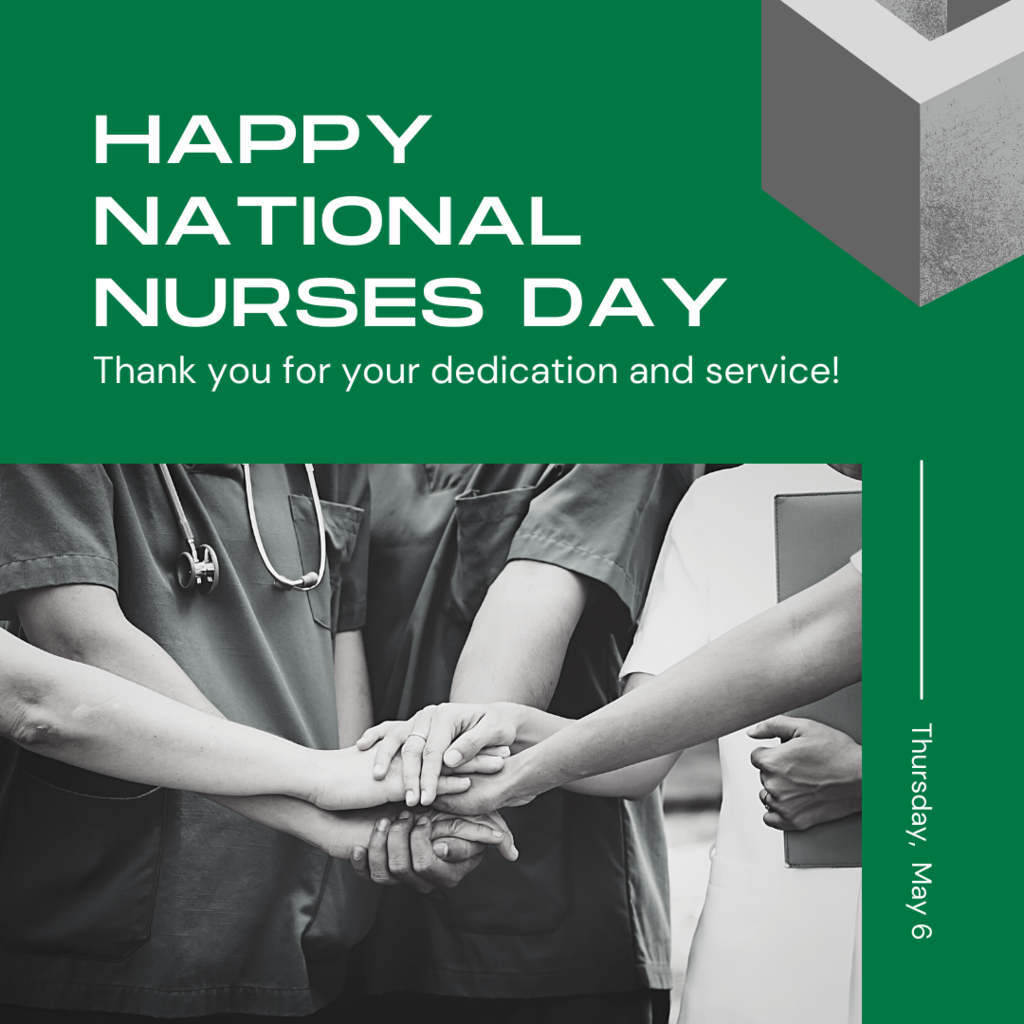 St. Mary's High School is excited to welcome you! - It's not too late to receive tuition assistance for the 2021-2022 school year! - $100,000 in additional scholarship funds are available NOW. - Tuition assistance starting at $3,000. - Tell your friends! If current families refer a new family to us, they may receive a tuition discount up to $2,000. #FindYourPlaceAtStMarys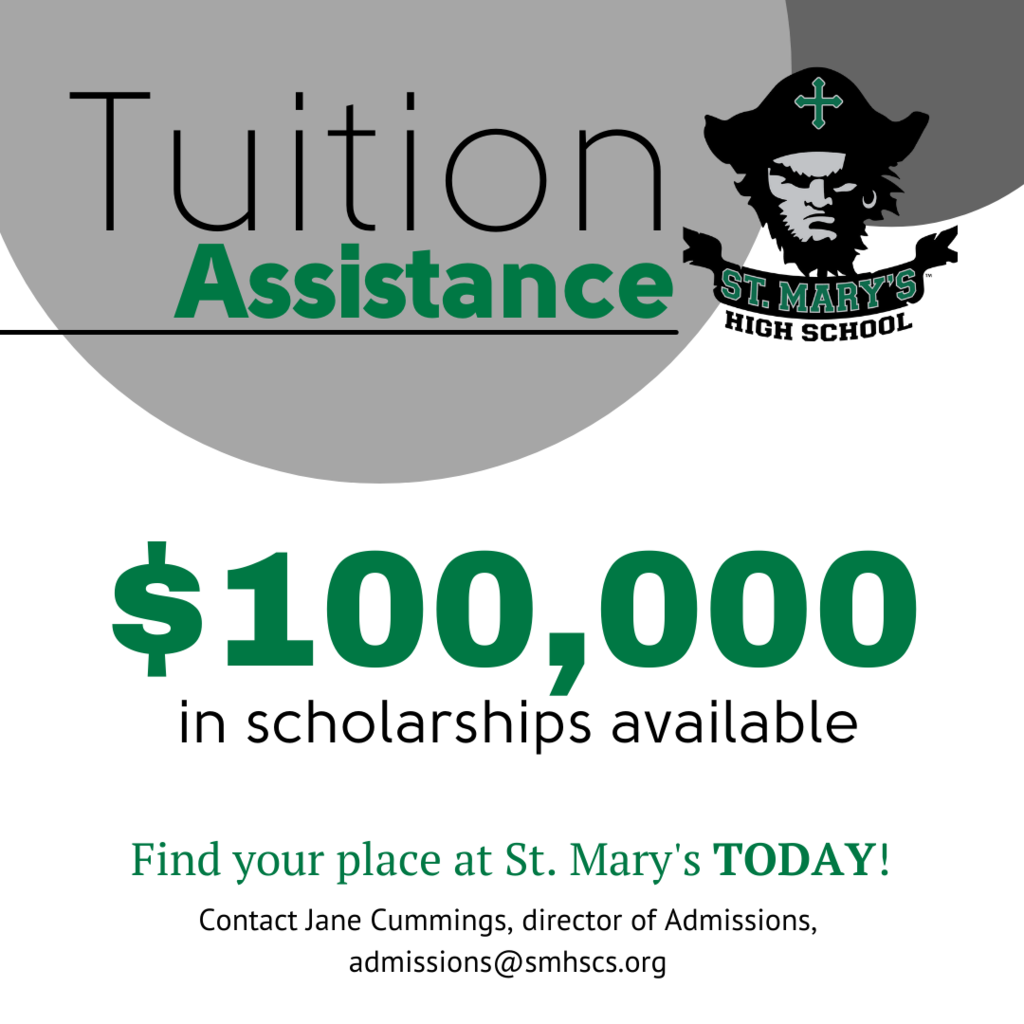 St. Mary's teachers are special people! Please join us in celebrating our St. Mary's faculty for TEACHER APPRECIATION WEEK, Monday, May 3, to Friday, May 7, by sharing a kind word and a prayer during the week. #SMHSUnitedByCommunity #SMHSTeacherAppreciation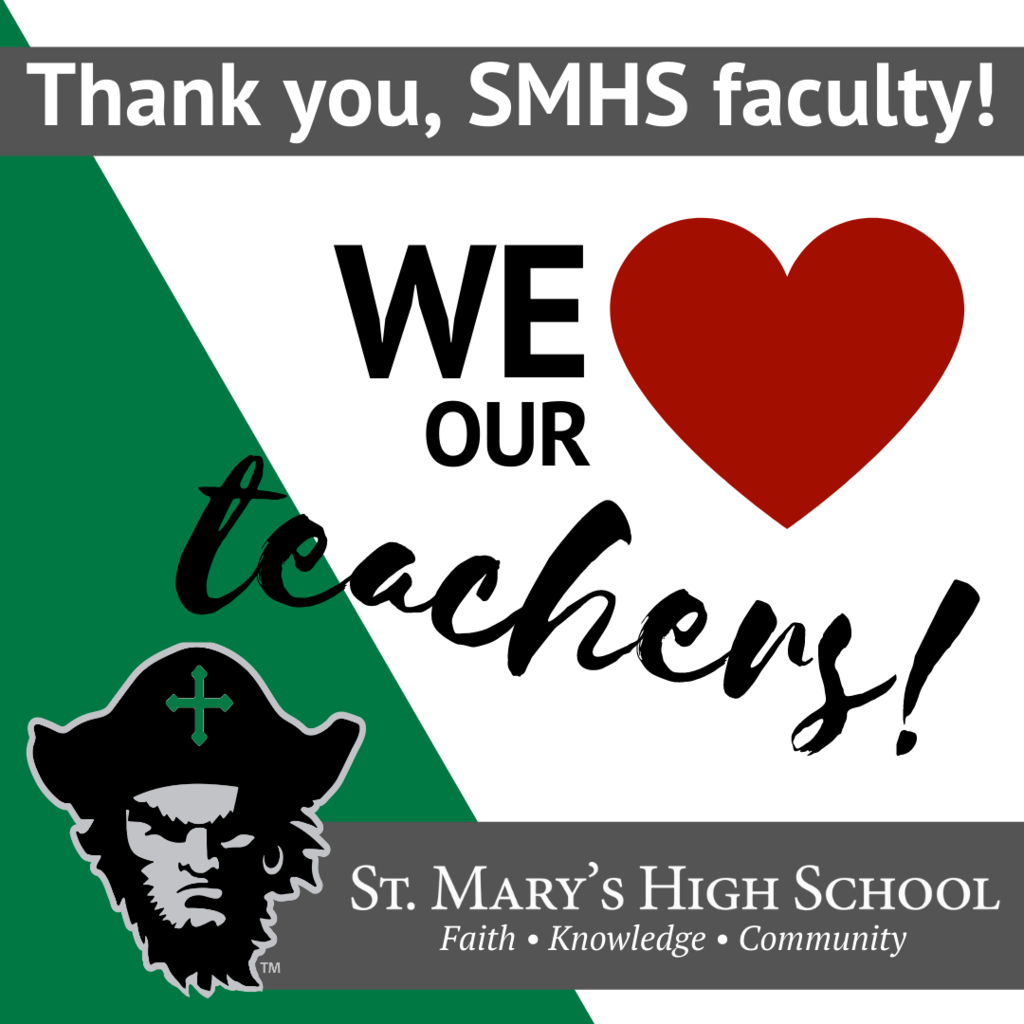 Congratulations to our Pirate football team who advanced to the 2A football quarterfinal playoffs! Unfortunately, injuries will prevent the team from continuing its season. Coach Jim Cristelli said the football team has worked harder than they have ever worked before, and have represented St. Mary's with class and perseverance. "I am very proud of each and everyone of them. Pirate Pride is alive and well," he said.

Extra! Extra! Next week (April 27-30) Elliot Bode will serve as president and John Berson will serve as Vice President of St. Mary's. President Bode has altered the dress code for next week to sweatpants, hoodies, and hats. In addition, he has approved an early release at 1 pm for Wednesday, April 28. We look forward to your leadership, President Bode and Vice President Berson! Read more about President Bode's upcoming week in the News section of our website (
www.smpirates.org/article/446148
). #SMHSUnitedByCommunity #SMHSGala2020

St. Mary's girls basketball team takes on Ellicott this evening as the regular season winds down. Join us LIVE tonight, via our livestream, as we honor the senior members of the team.
www.youtube.com/c/StMarysHighSchoolPirates
#GoSMHSPirates #SMHSGirlsVolleyball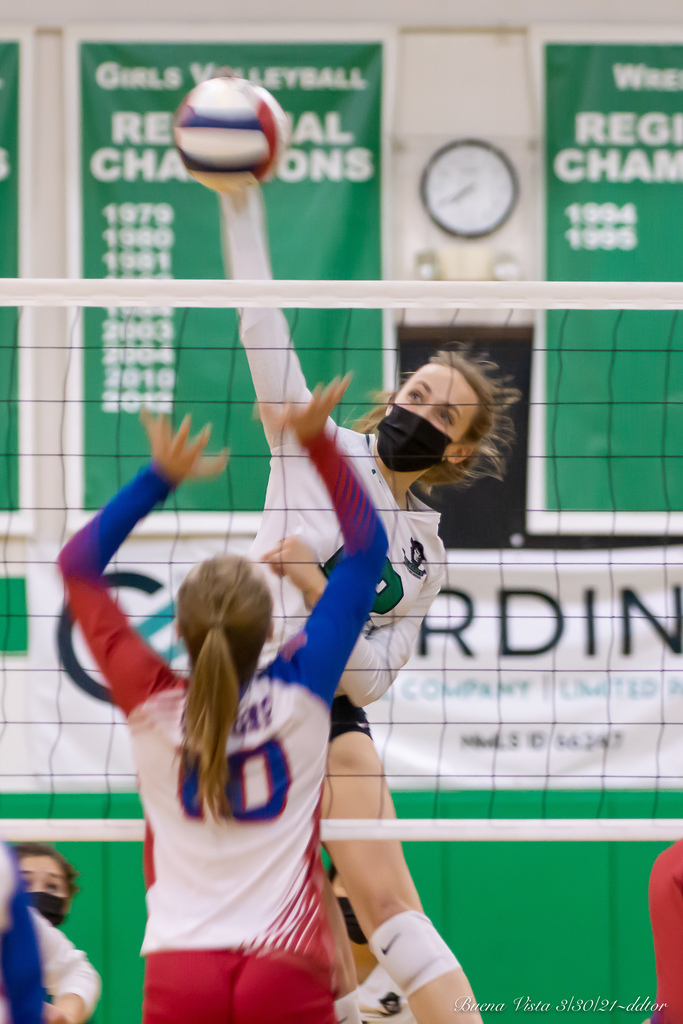 Basketball is more than a game to Jim Masterson, St. Mary's High School boys basketball coach. It's a way to teach and build faith. Read more about Coach Masterson's approach to the game on our blog: stmaryspirates.wordpress.com/2021/04/19/faith-drives-boys-basketball-team/ #SMHSBoysBasketball #SMHSInspiredByFaith #PiratesAchieve

St. Mary's High School will have an online learning day today, Friday, April 16, due to weather. Please follow the Friday Early Release Schedule.

SMHS President Deacon Rob Rysavy and Pistol Pete are ready! Our livestream team is ready! Are you ready for St. Mary's 2021 Virtual Gala? We're live in 30 half an hour! Join us for fun, (virtual) fellowship, & fundraising that supports current & future Pirates! #SMHSGala2021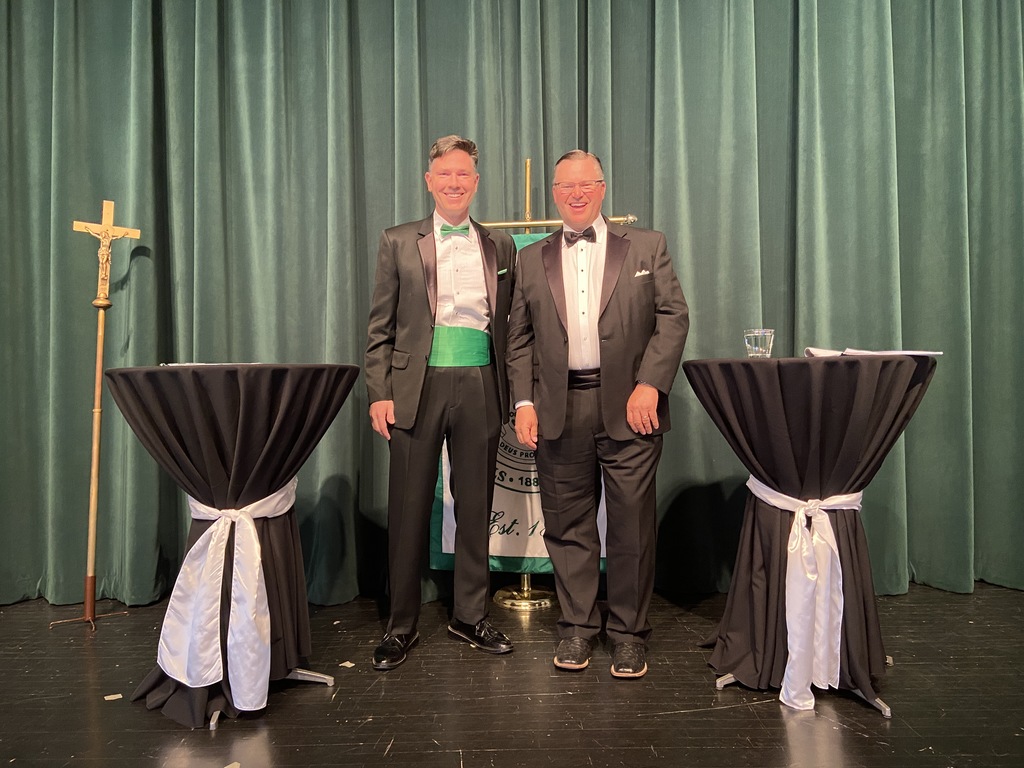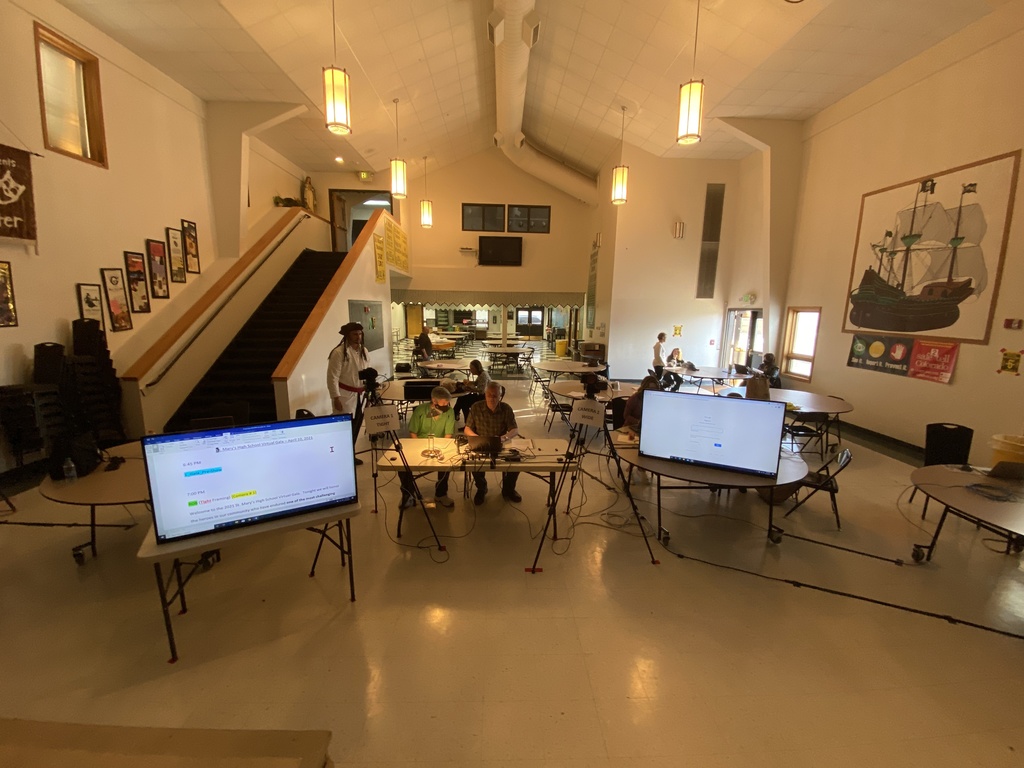 Tonight is the night! Join us on our YouTube channel (
https://www.youtube.com/watch?v=ot8dsiTdUng
) at 7 pm (MDT) for the fun of the live auction and our Gift from the Heart appeal. The silent auction is now open. Register and place your bids at stmarys21.givesmart.com. #SMHSGala2021

Our Pirates boys soccer team hosts Bayfield this afternoon. Watch it LIVE on our YouTube Channel: youtube.com/StMarysHighSchoolPirates. #GoSMHSPirates #SMHSBoysSoccer

We are LIVE from The Grace Center this morning as your Pirates take on Estes Park. It's Senior Day so we're starting early to join in honoring our class of 2021 players.
www.youtube.com/c/StMarysHighSchoolPirates
#GoSMHSPirates #SMHSPirateFootball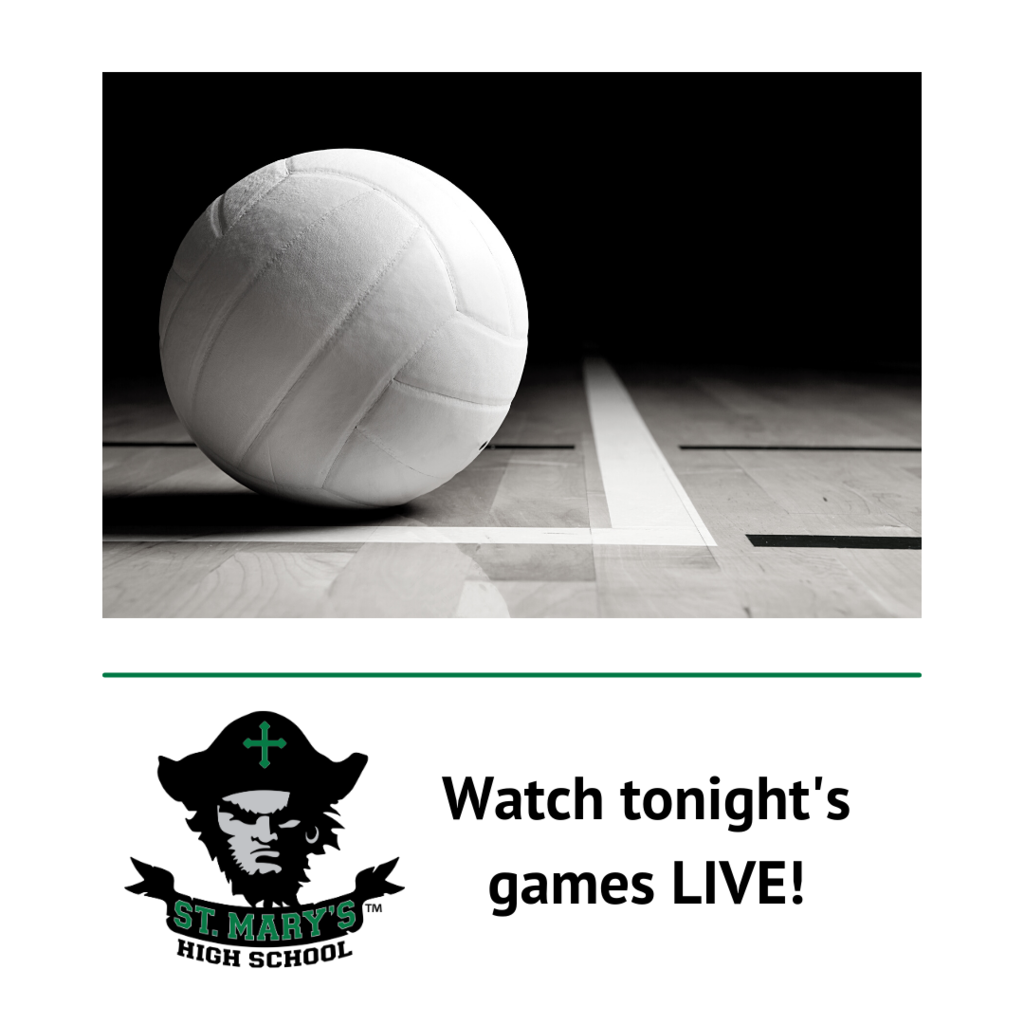 Pirate fans and family, our Facebook page is receiving a lot of posts for unauthorized livestreams of our athletic events. Please note that official livestreams (ours or those hosted by our opponents for away games) will be shared by our official account. St. Mary's High School currently livestreams its games for free via our YouTube channel (
www.youtube.com/c/stmaryshighschoolpirates
). They streams can also be watched on our website at
www.smpirates.org/page/pirate-livestreams
. Our Facebook administrator is deleting and blocking these posts for unauthorized streams, but please beware if you see one before it is deleted. #SMHSUnitedByCommunity

St. Mary's comes up short in the 3A state championship game. It was their first loss of the year, finishing 16-1 on the season. Thanks for an amazing season, Pirates! #SMHSBoysBasketball #PiratePride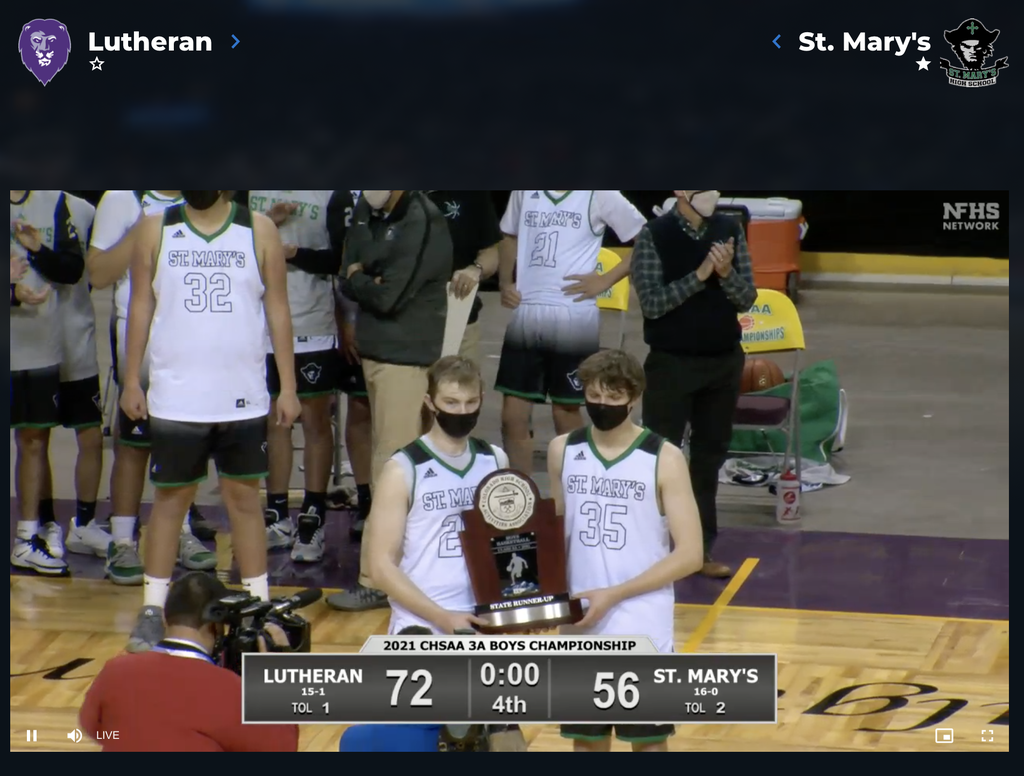 Lutheran outscores St. Mary's 25-5 in the third quarter, taking the lead 49-32 going into the fourth quarter. #GoSMHSPirates #SMHSBoysBasketball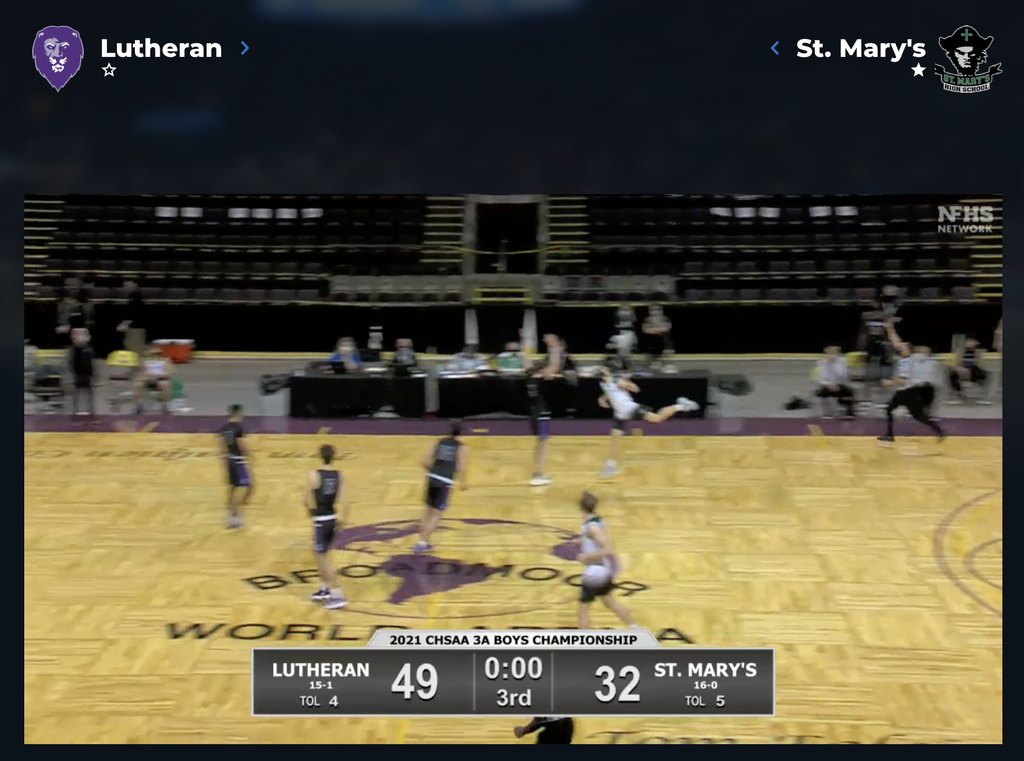 St. Mary's went on an 11-0 run in the second quarter to take the lead, 27-24 at the half. Luke Stockelman '21 is the high scorer with 11 points in the half. #GoSMHSPirates #SMHSBoysBasketball

St. Mary's trails by 3 at the end of the first quarter in the 3A state championship game. #GoSMHSPirates #SMHSBoysBasketball