Join us June 10th - St. Mary's Family Reunion!
We warmly invite all Alumni & Families, Current Families, and Supporters back to campus for our first-ever St. Mary's Family Reunion. Both the Main Campus and The Grace Center will be open for families and friends to reconnect. We will have food, kid activities, exhibition athletic events between current and former Pirates, and tons of fun for everyone.
Family Reunion will be a great way to reconnect with friends and families!
Festivities will go from 9 am to 3 pm
Food will be available from 11:30 am
Tickets are only $10/person or $30 for all immediate family members
For any questions or clarifications, please contact Joe Trechter
jtrechter@smhscs.org or 719.635.7540 ext 38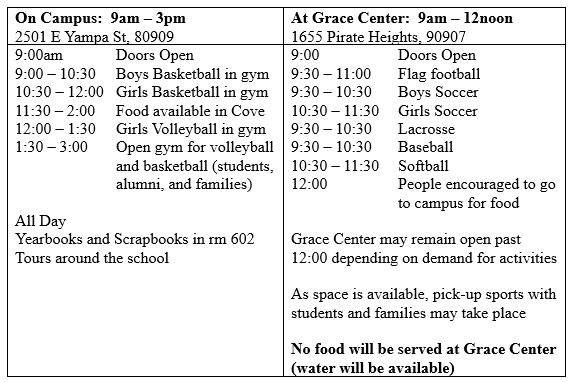 ONCE A PIRATE, ALWAYS A PIRATE
Our 6,000 alumni are spread from coast to coast and occupy a variety of professions. In our Pirate family, we have Rhodes, Fulbright, Truman, and Schwarzman scholars; eight Boettcher Scholars; priests and an ordained Bishop; a former attorney general of Colorado and current mayor of Colorado Springs; authors; teachers; professional athletes; doctors, nurses and lawyers; entrepreneurs and financiers; men and women who proudly serve our country; and numerous others who reach out to touch the lives of others.