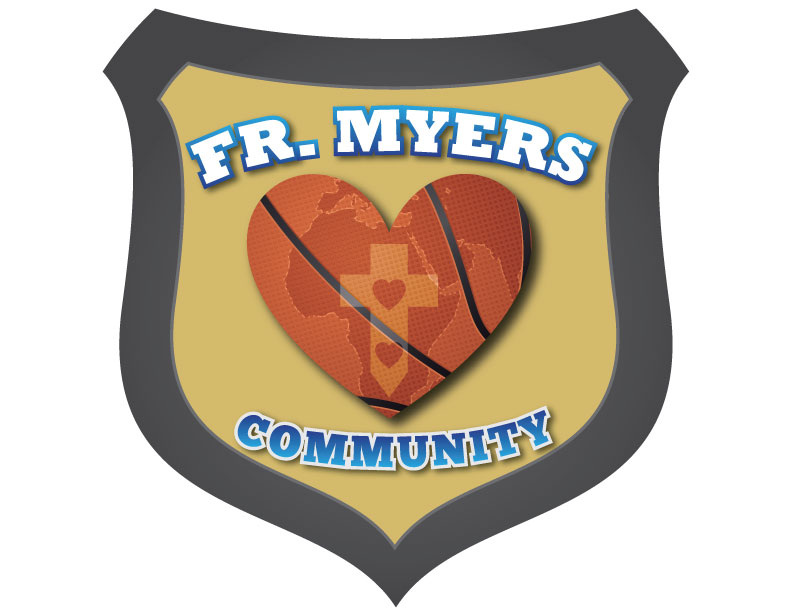 Wheat Gold, the color of success
St. John Paul II
St. Mother Teresa of Calcutta
The sports-themed heart at the center of the Myers House shield represents Fr. Myers' love of sports and the St. Mary's community.
How the Shield Came to Be
In fall of 2021, the inaugural year of the St. Mary's houses, students were asked to design house shields. Those students designs were collected, common themes were identified, and those themes were used by a graphic designer to create a shield for each house.
The shape of the shield was taken from the St. Mary's crest and each House shield was required to include the cross, also found in the St. Mary's crest.
Fr. Rawley Myers came to St. Mary's in the 1960s and remained a Pirate until his death in 2009. He taught theology and was a staunch supporter of St. Mary's, both during its years as a diocesan school and after it became an independent Catholic school in 1987.
For many years, Fr. Myers celebrated most of the Masses at the school and was a tremendous fan of Pirate athletics, especially football. He was affectionately known as the Twelfth Man. He would wear his football jersey over his clerical collar and walk the sidelines during every football game, home and away, watching, praying and cheering.
If a school Mass coincided with a sporting event, his homily would often turn into a pep rally. His enthusiasm was contagious and led to a couple new phrases that still resonate in the halls of St. Mary's today, "Pirate Pride" and "Once a Pirate, Always a Pirate."
Fr. Myers was also a prolific writer and popular author.
House Emphasis: Community
The emphasis of Myers House is community, chosen in honor of Fr. Myers' love of Pirate sports.